If you are looking for inspiration so you can throw the perfect engagement party you are in the right place. Here we look at the top, best and most popular engagement party themes. Keep checking back as we will be continuously adding more ideas for you to consider.
You can check out this range of engagement party decorations and supplies by clicking here.
Best Engagement Party Themes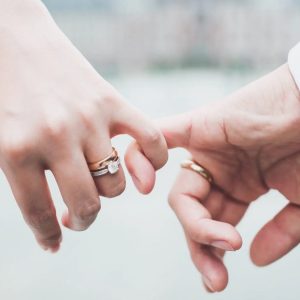 In the party guides below we explore some of the best engagement party themes. We will look at ideas for everything from party decorations, supplies, foods, games party favors and tableware and more.
Here are some top theme ideas that will add a touch of magic and personality to the celebration:
Whether you happen to be choosing an engagement party theme for yourself or for someone else take the time to consider the lucky couple. Take the time to think about what makes this couple tick. Think about their passions and their personalities. Perhaps even take the time to consider the history and story of their relationship.
Once you have taken the time to consider these factors you will be in a much better position to choose the best engagement party theme. A theme that will make this a party of a lifetime and a party to remember forever.
You can check out this range of engagement party decorations and supplies by clicking here.
Engagement Party Decorations
The starting point for pretty much any party is the party decorations. After all it is party decorations that set the stage and the mood. Here are some high quality engagement party decorations that will look wonderful at your celebration.
Rustic Romance: Embrace the charm of rustic aesthetics by incorporating wooden accents, burlap table runners, and mason jar centerpieces filled with wildflowers. Soft string lights and lanterns can cast a warm and cozy glow, evoking a sense of intimacy and love.
Elegant Garden Affair: Bring the beauty of the outdoors indoors with lush floral arrangements, cascading greenery, and delicate fairy lights. Transform the venue into a blooming garden paradise that exudes elegance and natural beauty.
Vintage Glamour: Transport guests to a bygone era with vintage-inspired decor. Utilize antique frames, ornate candelabras, and lace tablecloths for a touch of old-world charm. Incorporate soft pastels or rich jewel tones to enhance the vintage ambiance.
Tropical Paradise: Infuse the party with the vibrancy of a tropical getaway. Use bright, bold colors, lush palm leaves, and tiki torches to create a lively and festive atmosphere that captures the essence of a beachside celebration.
Under the Stars: Create a dreamy and romantic setting with celestial decor. Hang fairy lights, paper lanterns, and starlit projections to mimic a magical night sky, evoking a sense of wonder and enchantment.
Chic City Glam: Embrace the sophistication of urban life with sleek and modern decor elements. Incorporate metallic accents, sleek furniture, and minimalist floral arrangements for a cosmopolitan and stylish engagement party.
Boho Chic: Channel a free-spirited vibe with bohemian decor. Use vibrant textiles, macrame hangings, and eclectic furniture to create a relaxed and whimsical atmosphere that encourages mingling and joy.
Nautical Nuptials: Bring a touch of the sea to your celebration with nautical-inspired decorations. Incorporate anchors, ropes, and seashells, and use a blue and white color palette to evoke the tranquility of ocean waves.
You can check out this range of engagement party decorations and supplies by clicking here.
Engagement Party Food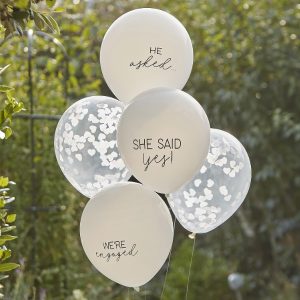 If you are planning on serving food at your engagement party it can be difficult to know where to start. Choosing the best foods for your guest really does not have to be difficult or complicated.
Here are some ideas to get you started:
Gourmet Grazing Table: Create a visually stunning display of charcuterie, cheeses, fresh fruits, nuts, and artisanal bread. A grazing table offers a wide variety of flavors and encourages guests to mingle as they sample different bites.
Cocktail Party Elegance: Serve an array of elegant hors d'oeuvres and small bites, from mini crab cakes to bruschetta with fresh toppings. Pair these delights with signature cocktails that match the theme of the party.
Global Flavors: Take guests on a culinary journey by offering dishes from around the world. Showcase international cuisines with a diverse selection of appetizers, main courses, and desserts that reflect different cultures.
Seafood Soiree: If your theme is nautical or beach-inspired, consider a seafood-focused menu. Offer oysters on the half shell, shrimp cocktail, and seafood platters for a luxurious and fresh dining experience.
Farm-to-Table Feast: Celebrate the beauty of locally sourced ingredients by serving dishes made with seasonal produce. Create a menu that emphasizes sustainability, showcasing the region's finest flavors.
Dessert Extravaganza: Treat your guests to a mouthwatering dessert spread featuring an assortment of sweet treats such as mini cupcakes, macarons, chocolate truffles, and a stunning centerpiece cake.
Tropical Fusion: If your theme is tropical, infuse the menu with exotic fruits, grilled meats, and refreshing cocktails that transport guests to a lush paradise.
Comfort Classics: Create a comforting and nostalgic experience by serving beloved comfort foods like sliders, mini grilled cheese sandwiches, and miniature versions of favorite dishes.
By curating a selection of delectable dishes that align with your engagement party theme, you'll not only satisfy your guests' appetites but also contribute to the overall ambiance and enjoyment of the celebration.
You can check out this range of engagement party tableware by clicking here.
Engagement Party Games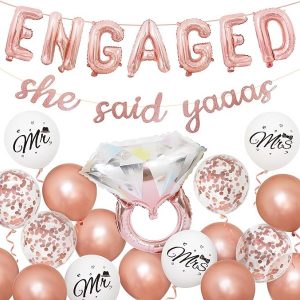 Nothing will get your guests up out their seats and having fun like some well thought out party games. While engagement party games are not essential they can be a whole lot of fun. Here are some awesome suggestions for engagement party games.
Trivia Showdown: Test your guests' knowledge about the happy couple with a trivia game. Prepare a list of fun and interesting questions about your relationship, and let teams or individuals compete for prizes as they showcase their familiarity with your love story.
Wedding Charades: Put a wedding twist on the classic charades game by including phrases related to weddings, marriage, and romantic movies. Guests will have a blast acting out these wedding-themed clues and guessing the answers.
Love Bingo: Create bingo cards with personalized wedding-related squares instead of numbers. As you share anecdotes or tell stories, guests can mark off squares that match the details they've heard. The first person to complete a row or column shouts "Love!" to win.
Photo Scavenger Hunt: Design a scavenger hunt that encourages guests to explore the party venue while taking creative photos. Provide a list of items or scenes to capture, such as a couple dancing, a proposal pose, or a group selfie. Award prizes for the most creative shots.
Guess the Love Songs: Prepare a playlist of romantic songs that are meaningful to you and your partner. Play short snippets of each song and have guests guess the title and artist. It's a fun way to share your favorite tunes and let guests showcase their musical knowledge.
Couple Trivia: Put the spotlight on other couples at the party by playing couple trivia. Ask married or engaged couples to share their relationship stories and answer questions about their partners. It's a heartwarming way to celebrate love in all its forms.
Mad Libs Love Story: Create a Mad Libs-style love story with blanks for nouns, verbs, adjectives, and more. Have guests fill in the blanks without revealing the full story. When read aloud, the resulting love story will have everyone in stitches.
Ring Toss Challenge: Set up a playful ring toss game with rings and bottles. Invite guests to test their aiming skills by trying to land a ring on a bottle's neck. Offer different levels of difficulty for a friendly competition.
You can check out this range of engagement party games by clicking here.
Engagement Party Music
When you are planning your engagement party possibly the most important factor is the music. You will be amazed as to how many people put little or no effort into choosing the playlist for their party.
If you are wanting to throw the best ever engagement party we would highly recomend either hiring a professional or preselecting songs for your playlist. Here are some awesome suggestions that are sure to get the party started:
First Dance Favorites: Choose the songs that hold a special place in your hearts and play them during the party. These might include the song from your first dance or other tracks that remind you of important moments in your relationship.
Love Ballads: Create a playlist of timeless love ballads that set a romantic and sentimental mood. Songs like "Unchained Melody" by The Righteous Brothers or "At Last" by Etta James can make for beautiful background music.
Upbeat Hits: Get everyone on their feet with a mix of upbeat and danceable songs that encourage dancing and lively interactions. Include current chart-toppers and classic dance anthems to cater to a variety of musical tastes.
Guest Requests: Allow guests to make song requests and dedicate them to the couple. This interactive element can add a personal touch to the party and ensure that everyone hears their favorite tunes.
Themed Tunes: If your engagement party has a specific theme, choose music that complements the theme. For example, if you're having a vintage-inspired party, play songs from the era you're celebrating.
Sentimental Soundtrack: Compile a playlist of songs that tell your love story through lyrics. Include songs that capture the journey of your relationship, from the early days of dating to the excitement of getting engaged.
Acoustic Melodies: Opt for acoustic versions of popular songs for a more intimate and relaxed atmosphere. Acoustic renditions often highlight the emotional depth of a song's lyrics.
Live Music: Consider hiring a live band or a solo musician to perform during the party. Live music adds a special touch and can create a memorable experience for you and your guests.
Whether you're aiming for a romantic and sentimental ambiance or a lively and energetic dance floor, the right music choices will enhance the overall mood and ensure that your engagement party is a celebration to remember.
Your best option for music if you are to throw an engagement party is Amazon Music. You will never ever be without the perfect song at your fingertips for any party you throw. You can check out the best deals for Amazon Music by clicking here.
Engagement Party Favors
Nothing says 'thank you' to your party guests quite like a goodie bag. That is the easy part. Choosing which engagement party favors to include as token of appreciation is the hard part. Here are some suggestions as to engagement party favors that you could issue to your guests.
Customized Keepsakes: Personalized items such as engraved keychains, coasters, or magnets featuring your names and the engagement date make for meaningful keepsakes that guests can cherish.
Mini Succulents or Plants: Offer guests a touch of greenery with mini potted succulents or small plants. These living favors add a natural and fresh element to the party and can be a lovely addition to their homes.
Sweet Treats: Delight your guests with delicious treats like custom cookies, macarons, or chocolate truffles. Package them in elegant boxes or bags for an extra touch of sophistication.
Candles: Scented candles in decorative jars or tins are both practical and delightful. Choose scents that evoke romance or happiness to create a sensory experience.
Tea or Coffee Blends: Create custom tea blends or coffee grounds and package them in stylish pouches. Guests can enjoy a warm cup of your special blend long after the party ends.
Mini Champagne Bottles: Raise a toast to your engagement by gifting mini champagne bottles adorned with personalized labels or tags. It's a sparkling way to celebrate your love.
Photo Frames: Share a favorite photo of you and your partner with your guests by providing small photo frames. This allows them to have a visual memento of your special day.
Bookmark Elegance: For a touch of sophistication, opt for elegant bookmarks with intricate designs. Guests can use these to mark their favorite pages in books or journals.
You can check out this range of engagement party favors by clicking here.
What to Wear to an Engagement Party
For some people choosing what to wear for a party is pretty darn easy. For others it can be a daunting take. We would advise deciding on something you feel both comfortable and confident wearing. Depending if the engagement party is casual, formal or themed will influence what you decide to wear. With that in mind here are some simple ideas on what you could wear.
Classic Cocktail Attire: Embrace timeless elegance with a cocktail dress or a well-fitted suit. A little black dress or a tailored blazer paired with dress pants is always a sophisticated choice.
Casual Chic: Opt for a casual yet polished look with a flowy maxi dress, tailored trousers, or a stylish jumpsuit. Add accessories like statement earrings or a tie to elevate the ensemble.
Themed Outfits: If your engagement party has a specific theme, consider dressing in accordance with the theme. For example, if it's a vintage-inspired party, don your best vintage attire.
Garden Party Glam: For an outdoor or garden-themed engagement party, opt for floral prints, light fabrics, and pastel colors. Sundresses and khakis are great choices for a relaxed atmosphere.
Smart Casual: Strike a balance between formal and casual with smart casual attire. Men can opt for slacks and a dress shirt, while women can choose a stylish blouse and tailored pants.
Fashion-Forward Ensembles: Showcase your fashion-forward style with bold patterns, unique textures, and statement accessories. Expressing your individuality adds a personalized touch to the celebration.
Monochromatic Look: Embrace the elegance of a monochromatic outfit by wearing different shades of the same color. This creates a cohesive and sophisticated appearance.
Comfortable Footwear: Remember to choose footwear that matches the overall vibe of your outfit and is suitable for the venue. Comfortable yet stylish shoes are a must for a fun-filled event.
If you are throwing or hosting an engagement party with a specific theme it would not hurt to dress with that theme in mind. However, with that said, you should dress in what makes you comfortable. If you are comfortable with what you wear you are also more confident. If you are more confident you are more likely to enjoy yourself and have the party of your life.
Take a look at more engagement stuff here.