Enter a realm steeped in intrigue, elegance, and allure, as we unveil the artistry behind curating an unforgettable Masquerade Ball Engagement Party. Beyond the enigmatic masks and beneath the enchanting ambiance, a celebration comes to life, embodying finesse, romance, and a hint of mystique. Within this comprehensive guide, we extend an invitation to explore the intricacies of orchestrating a Masquerade Ball that transcends reality, enveloping you and your esteemed guests in an atmosphere of opulence.
How to Throw a Masquerade Ball Engagement Party – The Ultimate Guide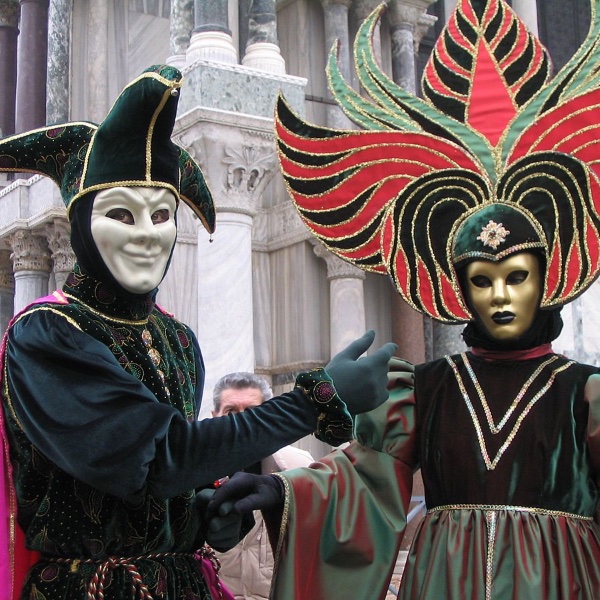 Amid the shimmering anticipation of every moment and the timeless charm of each detail, allow us to guide you through the delicate craft of blending concealed enchantment with the jubilation of your engagement. Together, we shall reveal the secrets to crafting an occasion where cherished memories are etched in hearts long after the veils are lifted. Embrace the grandeur of a Masquerade Ball Engagement Party – a rendezvous where elegance intertwines with enigma, and love commands the spotlight.
What is a Masquerade Ball Engagement Party
A Masquerade Ball Engagement Party encapsulates the essence of timeless charm and mystery, combining the allure of masked revelry with the celebration of love. Originating from centuries past, this enchanting event invites guests to don elegant attire and ornate masks, immersing themselves in an ambiance of elegance and secrecy.
Masquerade Ball Engagement Party Decorations
Transform your venue into a realm of enchantment with captivating decorations for your Masquerade Ball Engagement Party:
Masked Elegance: Adorn tables with ornate masks as centerpieces, embodying the essence of the masquerade theme and adding an air of mystery.
Check out these ornate mask table centerpieces by clicking here.
Gilded Accents: Incorporate golden hues and metallic touches in decor elements, from table settings to candleholders, evoking opulence and glamour.
Dramatic Drapery: Hang luxurious drapes and curtains in rich colors, creating an atmosphere of grandeur reminiscent of classic masquerade balls.
Twinkling Chandeliers: Install dazzling chandeliers that cast a warm and romantic glow, elevating the ambiance with a touch of vintage elegance.
Check out these twinkling lights by clicking here.
Masked Portraits: Display framed portraits of masked individuals from bygone eras, adding an artistic and historical element to the decor.
Mysterious Florals: Arrange bouquets of dark-hued flowers, like deep red roses and purple calla lilies, which complement the allure of the theme.
Mystical Mirrors: Integrate ornate mirrors throughout the space, enhancing the sense of depth and mirroring the mystique of the masquerade.
Masquerade Ball Engagement Party Food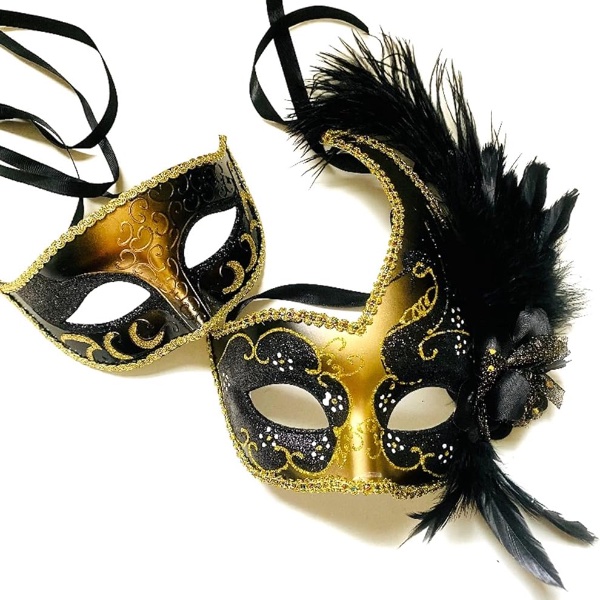 Indulge in culinary delights that harmonize with the opulence and intrigue of your Masquerade Ball Engagement Party:
Sensational Canapés: Offer an array of bite-sized delicacies, including mini quiches, smoked salmon blinis, and elegant stuffed mushrooms.
Elegant Charcuterie: Present a lavish charcuterie board featuring an assortment of fine cheeses, cured meats, fruits, and artisanal bread.
Champagne Towers: Create champagne towers adorned with cascading bubbles, allowing guests to enjoy the effervescence of celebration.
Exquisite Desserts: Showcase decadent desserts like chocolate-dipped strawberries, macarons, and intricately designed pastries.
Signature Cocktails: Craft cocktails with creative names that pay homage to masquerade motifs, adding a playful twist to the beverage offerings.
Masquerade Ball Engagement Party Games
Engage your guests in activities that embrace the spirit of mystery and camaraderie:
Mask-Matching Game: Provide guests with unique masks upon arrival and encourage them to find their masked counterpart, sparking conversations.
Guess the Guest: Have attendees write down interesting facts about themselves and place them in a bowl; others must guess who the facts belong to.
Mysterious Riddles: Arrange a scavenger hunt with riddles and clues leading guests to hidden treasures or secret spots within the venue.
Mask Design Contest: Set up a mask decorating station and let guests unleash their creativity, competing for the most imaginative mask design.
Check out these paintable masquerade ball masks by clicking here.
Masquerade Ball Engagement Party Music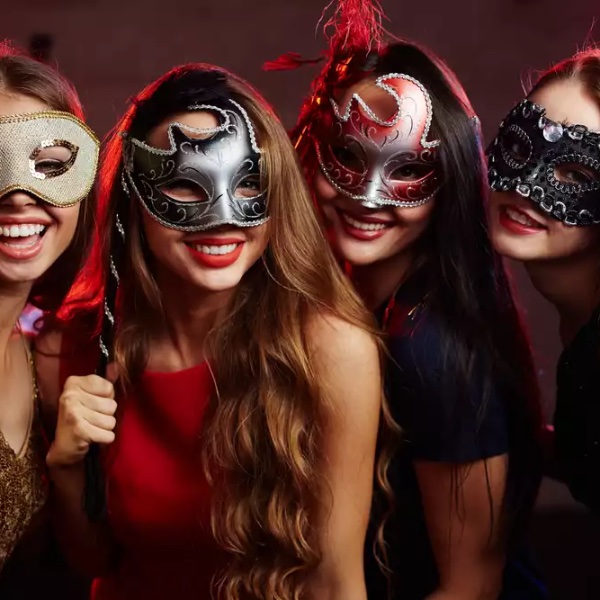 Craft a playlist that seamlessly blends with the allure and elegance of your Masquerade Ball Engagement Party:
Orchestral Melodies: Feature classical compositions and orchestral pieces that evoke the refinement of past eras, adding a touch of sophistication.
Swing and Jazz: Infuse swing and jazz tunes to energize the dance floor, paying homage to the lively ambiance of vintage masquerade balls.
Modern Classics: Include contemporary songs with romantic and elegant undertones, ensuring a blend of timeless and current musical delights.
Viennese Waltz: Incorporate Viennese waltz music, inviting couples to glide gracefully across the dance floor in a nod to classic ballroom elegance.
By adorning your venue with enchanting decorations, offering delectable cuisine, orchestrating engaging games, and curating a captivating musical experience, your engagement party will transport guests to a world of refined mystery and celebration. Each element will weave together, creating an evening that embodies the allure and charm of a masked soiree while celebrating the love that binds you and your partner.
Your best option for music if you are to throw a Masquerade Ball Engagement Party is Amazon Music. You will never ever be without the perfect song at your fingertips for any party you throw. You can check out the best deals for Amazon Music by clicking here.
Masquerade Ball Engagement Party Favors
Bid farewell to your guests with tokens of enchantment that mirror the allure of your Masquerade Ball Engagement Party:
Mask Keepsakes: Provide miniature versions of the masks worn during the celebration, allowing guests to carry a piece of the masquerade magic home.
Elegant Trinkets: Offer sophisticated trinkets such as engraved keychains, elegant bookmarks, or crystal bottle stoppers as elegant mementos.
Scented Delights: Give scented candles or fragrant sachets in elegant packaging, allowing guests to relive the aromatic ambiance of the evening.
Check out these scented candles by clicking here.
Mystical Crystals: Present small crystals or gemstones believed to carry positive energy, imbuing a touch of mystique into each departing guest's journey.
Check out these mystical crystals by clicking here.
What to Wear to a Masquerade Ball Engagement Party
Step into the realm of mystery and elegance with attire that embraces the allure of your engagement party:
Opulent Gowns: Opt for flowing gowns in luxurious fabrics, adorned with intricate details, sequins, and lace, evoking the glamour of a bygone era.
Dapper Tuxedos: Gentlemen can choose tailored tuxedos with satin lapels, bow ties, and formal shoes that mirror the sophistication of the event.
Masked Intrigue: Complete your ensemble with an exquisite mask that complements your outfit, transforming you into a masked marvel for the night.
Jewelry Elegance: Accentuate your look with statement jewelry pieces, such as chandelier earrings, vintage brooches, and sparkling bracelets.
Vintage Accessories: Embrace vintage accessories like gloves, parasols, or pocket watches, adding an extra layer of authenticity to your attire.
Hairstyle Flourish: Style your hair in elegant updos, cascading curls, or braided masterpieces that exude timeless charm and sophistication.
Classic Footwear: Select footwear that seamlessly blends style and comfort, such as heeled pumps, classic oxfords, or refined ballet flats.
By extending Masquerade Ball Engagement Party favors that capture the allure of the event and providing attire inspiration that resonates with the theme, you'll ensure that your guests not only depart with cherished memories but also carry a piece of the masquerade's enchantment with them.
Take a look at more engagement party theme guides here.