If you are about to host a baby shower around the time of halloween there are certainly plenty of themes you could use. In this guide we take a detailed look on hot to throw the best ever spooktacular baby shower.
How to Throw a Spooktacular Baby Shower – The Ultimate Guide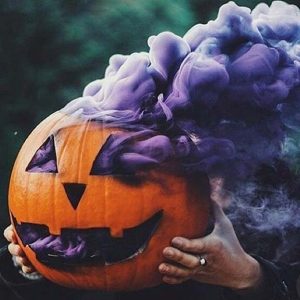 What you will find here is all the ideas and inspiration you need to host your own spooktacular baby shower. This includes ideas for suitable party decorations, supplies, food, music, games, party favors, gifts for the mom to be, even ideas for what you can wear to this halloween themed baby shower.
What is a Spooktacular Baby Shower
A spooktacular baby shower is a playful and fun-themed baby shower that incorporates elements of Halloween and spookiness. It's an imaginative and creative way to celebrate the upcoming arrival of a baby while embracing the eerie and mysterious atmosphere associated with Halloween.
Spooktacular Baby Shower Decorations
We will start off this guide to throwing a spooktacular baby shower by considering the party decorations you will need for your venue. The idea here is to include baby showered themed decorations with a spooky halloween vibe about them. Here are some ideas.
Mystical Entrance: Set the tone from the moment guests arrive with an entrance adorned with fog machines, twinkling fairy lights, and oversized spiderwebs. A cauldron bubbling with dry ice creates an air of mystery.
Check it out by clicking here.
Haunted Centerpieces: Transform tables into spectral spectacles with centerpieces that feature miniature haunted houses, pumpkin carriages, or baby monsters emerging from cauldrons.
Check out these haunted table centerpieces by clicking here.
Eerie Elegance: Combine classic baby shower elements with spooky twists. Opt for black and orange tablecloths, and accentuate with dark-colored floral arrangements and bewitching baby bottles.
Check out these dark colored tablecloths by clicking here.
Witchy Backdrops: Create a backdrop of tangled vines, hanging potion bottles, and mystical symbols. Frame it with floating bats or ghostly silhouettes to add depth and intrigue.
Check out these witch themed backdrop by clicking here.
Ghastly Games Area: Designate an area for eerie entertainment, complete with eerie photo booths, interactive ghostly mirrors, or even a "Fortune Teller" corner.
Pumpkin Paradise: Embrace the spirit of the season with pumpkin-themed décor. Carve baby monsters or mystical symbols onto pumpkins and use them as charming accents throughout.
Check out these pumpkin themed halloween decorations by clicking here.
Candlelit Charm: Illuminate the space with flickering candles in eerie holders or lanterns. Create a sense of enchantment by placing them in clusters around the venue.
Check out these LED candles by clicking here.
Bewitching Balloons: Elevate the spookiness with black, orange, and metallic balloons featuring playful designs like baby monsters or witches' hats.
Check out these spooky balloons by clicking here.
Creepy Crawly Accents: Sprinkle lifelike plastic spiders, bats, and other critters around the space to add an element of surprise and a touch of eerie fun.
Check out these creepy crawly halloween decorations by clicking here.
Ghostly Garlands: Craft garlands with baby onesies or pacifiers hanging from ghostly strings. They'll add a playful touch to your eerie ambiance.
Check out these baby onesies by clicking here.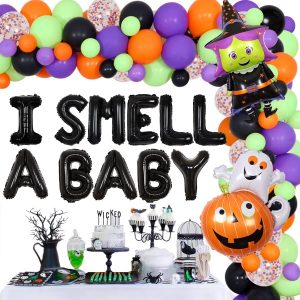 Infuse every nook and cranny with supernatural charm, and watch as your Spooktacular baby shower takes on an enchanting life of its own. The decorations will set the stage for an unforgettable celebration that's as hauntingly delightful as it is heartwarming.
Spooktacular Baby Shower Food
Next up on the agenda is the matter of what food you should include on your menu. Guests always love the food at a baby shower so here are some halloween themed foods you could include.
Witch's Brew Punch: Create a mesmerizing concoction of fruity punch complete with floating fruit and dry ice for a bubbling cauldron effect.
Mystical Appetizers: Craft delectable appetizers like "Bat Bites" (mini sandwiches with bat-shaped cutouts) or "Mummy Wraps" (sausage rolls wrapped like mummies).
Ghostly Dessert Table: Set up a dessert table adorned with ghost-shaped cookies, baby monster cupcakes, and "Potion" jars filled with candy.
Pumpkin Spice Everything: Delight guests with a spread of pumpkin-inspired treats, from pumpkin soup shooters to pumpkin-spiced pastries.
Spooky Snack Stations: Create stations with eerie yet irresistible treats, such as a "Haunted Sweets" station with candy apples and a "Witch's Cauldron" of popcorn.
Bewitched Baking: Offer a DIY cupcake or cookie decorating station, allowing guests to sprinkle their own edible magic.
Mystical Mocktails: Craft non-alcoholic concoctions with names like "Enchanted Elixir" or "Witch's Brew" to add an extra touch of supernatural charm.
Monster Munch: Prepare a colorful mix of popcorn, pretzels, and candies to create a spellbinding "Monster Munch" for guests to nibble on.
Haunted Cake: Showcase a cake that's a masterpiece of both flavor and design. Opt for tiers adorned with baby monsters, mystical creatures, or witches' hats.
Spooky Fresh Fruit: Offer a platter of fruit arranged to look like a grinning jack-o'-lantern, complete with fruity facial features.
Each culinary creation will add a dash of whimsy and enchantment to your Spooktacular baby shower, ensuring that every bite is as delightfully eerie as the theme itself.
Check out this halloween party tableware by clicking here.
Spooktacular Baby Shower Games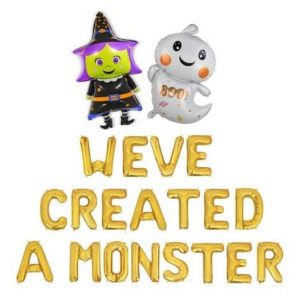 Games are always a popular form of entertainment at a baby shower and a spooktacular baby shower is most certainly no different to that rule. For this theme of halloween themed baby shower you can take traditional baby shower themed party games and add a halloween themed vibe to them. Here are some ideas.
Monster Mash-Up Charades: Put a spooky spin on charades by having guests act out baby-related phrases while impersonating classic monsters like Dracula, the Mummy, or Frankenstein.
Check out these charades games by clicking here.
Pumpkin Decorating Contest: Provide mini pumpkins and an array of decorating supplies, and let guests create their own mini masterpieces. Award prizes for the most creative and spookiest designs.
Check out these pumpkin decorating tools by clicking here.
Mystical Memory: Fill a tray with baby-related items and cover it. After a sneak peek, remove the tray and challenge guests to recall as many items as they can in a set time.
Baby Costume Parade: Have guests come dressed in their best baby-themed costumes. Create a runway and let them showcase their imaginative ensembles while everyone votes for their favorites.
Witch's Brew Bingo: Put a magical twist on bingo with cards featuring mystical symbols, baby items, or spooky creatures. Play for bewitching prizes that tie into the theme.
Check out these bingo games by clicking here.
Ghastly Guessing Games: Fill a jar with candy corn or spooky-themed treats and have guests guess the number of items inside. The closest guess wins a hauntingly good prize.
Eerie Diaper Dash: Set up a changing station and time guests as they race to diaper a baby doll while blindfolded. Laughter is guaranteed as they navigate the challenge.
Check out these diapers which can be used for this game by clicking here.
Haunted Baby Trivia: Put your guests' knowledge to the test with a spooky twist on baby-related trivia questions. The guest with the most correct answers wins a mysterious prize.
Check out these halloween trivia games by clicking here.
Supernatural Scavenger Hunt: Create a scavenger hunt filled with baby items and supernatural clues that lead guests to various hidden treasures.
Check out these scavenger hunt games by clicking here.
Bobbing for Pacifiers: Give the classic bobbing-for-apples game a baby-themed twist by using pacifiers instead. Guests will have a blast competing to retrieve the most pacifiers in a set time.
With these delightfully eerie games, your Spooktacular baby shower will be a captivating blend of supernatural amusement and heartwarming celebration. From spirited laughter to enchanting challenges, your guests will revel in the otherworldly charm of each activity.
Spooktacular Baby Shower Music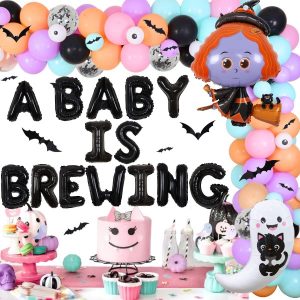 We would highly recommend organizing your music before the baby shower begins. Why not create a baby shower meets halloween themed playlist on the likes of Amazon Music. This way you will have all your music ready to go at the click of a button. By planning in advance you will not find yourself having to mess around thinking of new songs to play during the baby shower.
Here are some ideas for songs you can include on your spooktacular baby shower music playlist.
Enchanted Lullabies: Begin with soft and soothing lullabies that celebrate the impending arrival while maintaining a touch of magical charm. Opt for gentle melodies that evoke feelings of warmth and anticipation.
Monster Mash: Inject a dose of playful nostalgia with classic Halloween hits like "Monster Mash" and "Thriller." These iconic tunes will have guests tapping their toes and getting into the spirit of the season.
Witchy Classics: Add a touch of witchy whimsy with songs like "I Put a Spell on You" or "Witchy Woman." These tracks will infuse a hint of supernatural allure into the atmosphere.
Magical Melodies: Select songs that evoke a sense of wonder and enchantment, creating a musical backdrop that mirrors the mystical theme of the event.
Spooky Soundscapes: Incorporate eerie soundscapes and ambient tracks that transport guests to a ghostly dimension. These atmospheric interludes will add depth to the overall experience.
Ghostly Good Times: Include upbeat tracks that encourage dancing and merriment. Songs like "Ghostbusters" or "The Addams Family Theme" will inspire playful moves on the dance floor.
Charming Disney: Feature enchanting tunes from Disney movies that celebrate the magic of childhood and the joy of new beginnings. Consider tracks from "The Nightmare Before Christmas" or "Hocus Pocus."
Supernatural Serenades: Infuse the playlist with songs that carry a sense of mystery and wonder. Tracks that explore themes of the unknown and the mystical will captivate the imagination.
Bewitching Ballads: Choose soulful ballads that celebrate the journey of parenthood and the bonds of family. These heartfelt tunes will add a sentimental touch to the celebration.
Haunted Harmonies: Conclude the playlist with a blend of haunting melodies that maintain a delicate balance between eerie and endearing, leaving a lasting impression on your guests.
As you weave these melodies together, your Spooktacular baby shower will come to life with a harmonious fusion of enchantment and joy. The carefully curated playlist will enhance the ambiance, ensuring that every moment of the celebration is accompanied by the perfect musical backdrop.
Your best option for music if you are to throw a Spooktacular baby shower is Amazon Music. You will never ever be without the perfect song at your fingertips for any party you throw. You can check out the best deals for Amazon Music by clicking here.
Spooktacular Baby Shower Gifts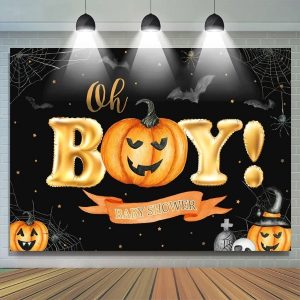 It is traditional to buy the mom to be a gift when attending a baby shower. Do not shy away from traditional baby and new mom themed gift ideas. You can of course give these type of gifts with a halloween twist to them if you so desire.
Baby Monster Onesies: Embrace the theme with cute onesies adorned with playful baby monsters or spooky creatures, adding a touch of charm to the baby's wardrobe.
Check out these baby monster onesies by clicking here.
Mystical Mobiles: Gift a mystical-themed baby mobile that features hanging baby monsters, witches' hats, or mini pumpkins to capture the baby's attention and stimulate their imagination.
Check out these halloween themed baby mobiles by clicking here.
Witchy Blankets: Wrap the little one in a cozy blanket with witchy motifs or adorable baby monsters, providing comfort and style during snuggle time.
Check out these cozy baby blankets by clicking here.
Magical Storybooks: Present a collection of baby books that transport the baby to enchanting worlds filled with wizards, witches, and fantastical creatures.
Check out these baby storybooks by clicking here.
Spooky Stuffed Animals: Delight the baby with a plush toy that resembles a friendly monster, ghost, or other magical creature, destined to become their cherished companion.
Check out these spooky stuffed animals by clicking here.
Customized Keepsakes: Opt for personalized items like engraved baby rattles or baby monster-themed photo frames that commemorate this spooktacular occasion.
Witchy Diaper Bag: Gift a stylish and practical diaper bag adorned with subtle witchy or magical details, ensuring the parents are prepared for every adventure.
Check out these diaper bags by clicking here.
Haunted Nursery Decor: Add an eerie yet adorable touch to the nursery with wall art featuring baby monsters, mystical creatures, or whimsical witches.
Baby Witch Hat: Present the baby with a cute witch hat accessory that can be worn for special occasions or as a playful photo prop.
Check out these baby witch hats by clicking here.
Supernatural Savings: Start the baby's savings journey with a customized piggy bank featuring a spooky theme, helping them prepare for magical adventures.
Check out these piggy banks by clicking here.
Choose a gift that resonates with your unique connection to the parents-to-be and encapsulates the spirit of the "Spooktacular" celebration. Your thoughtful present will add a touch of magic to this special moment in their journey.
Spooktacular Baby Shower Favors
You will most certainly want to say a big thank you to your guests for attending the baby shower. Perhaps a little something to help them remember this very special day. You will of course need to consider party favor bags which you can find by clicking here.
Here are some ideas for baby shower party favors that your guests will love.
Mini Potion Bottles: Fill small glass bottles with colorful candies or mints, labeling them as "magical potions" and tying them with ribbon or twine.
Check out these mini potion bottles by clicking here.
Ghostly Goodies: Offer ghost-shaped cookies or cupcakes adorned with baby monsters, creating a delicious and whimsical treat for guests to enjoy.
Check out these cookie making kits by clicking here.
Witchy Lip Balms: Provide lip balms with witchy or mystical packaging, ensuring your guests leave with a practical and charming favor.
Check out these lip balms by clicking here.
Personalized Spells: Create small scrolls with personalized well wishes or spells, sealed with a wax stamp for an authentic touch of enchantment.
Mini Baby Monsters: Offer miniature stuffed baby monsters or mystical creatures as adorable keepsakes that guests can take home.
Check out these mini monster stuffed animals by clicking here.
Spooky Candles: Provide candles with bewitching scents, like pumpkin spice or mystical forest, wrapped in themed packaging.
Check out these candles by clicking here.
Magical Magnets: Give guests magnets with spooky designs, perfect for displaying photos or notes on their fridges.
Check out these spooky magnets by clicking here.
Baby Monster Keychains: Attach baby monster keychains to thank-you cards, allowing your guests to carry a piece of the celebration with them.
Check out these baby monster keychains by clicking here.
Haunted Tea Bags: Offer tea bags with labels that feature cute baby monsters or witchy themes, adding a touch of coziness and charm.
Each favor will serve as a delightful reminder of the magical day, extending the enchantment beyond the event itself and expressing your gratitude for the presence of your guests.
What to Wear to a Spooktacular Baby Shower
When it comes to dressing for a Spooktacular baby shower, striking the perfect balance between whimsical and comfortable is key. Embrace the theme while celebrating the joyous occasion with these outfit ideas that will help you look effortlessly enchanting:
Witchy Chic: Opt for a flowing black dress paired with a witch's hat headband. Add playful touches like spooky jewelry or dark-colored accessories.
Mystical Mom-to-Be: Celebrate the impending arrival with a baby bump-friendly dress featuring subtle supernatural prints, such as moons, stars, or baby monsters.
Ghoulish Glamour: Combine elegance with spookiness by wearing a black lace dress or skirt with a baby monster brooch or pendant.
Pumpkin Spice Perfection: Embrace the autumnal vibes with a cozy sweater and pumpkin-colored skirt, capturing the essence of the season.
Monster Momma: Showcase your playful side by wearing a dress adorned with adorable baby monster illustrations or spooky motifs.
Creature Comfort: Opt for a comfortable jumpsuit or romper with baby monster patterns, allowing you to move freely while staying on-theme.
Ghostly Accessories: Elevate a simple outfit with ghost-shaped earrings, witchy necklaces, or mystical bracelets.
Magical Footwear: Complete your look with boots or shoes that feature enchanting details, like lace-up designs or subtle witchy embellishments.
Whimsical Hair: Style your hair with loose waves or braids and add a touch of magic with a hairpin adorned with stars, moons, or baby monster motifs.
Family-Themed Attire: Coordinate with your partner by both wearing outfits that pay homage to beloved supernatural characters or themes.
By incorporating these outfit ideas, you'll be ready to celebrate in style, embracing the "Spooktacular" theme while radiating joy and excitement for the impending arrival. Your ensemble will contribute to the enchanting atmosphere of the celebration, ensuring that your attire is as memorable as the occasion itself.
Take a look at more Baby Shower ideas and article here.