If you are hoping to throw or host a baby shower that has a halloween vibe to it why not consider a black cat baby shower. This is a really cute and easy to host idea that the mom to be will truly love. Especially if you are planning to throw this baby shower around the time of halloween.
How to Throw a Black Cat Baby Shower – The Ultimate Guide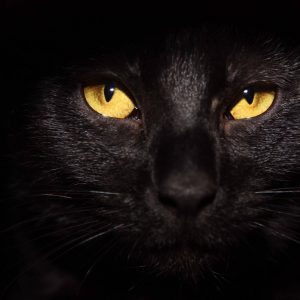 In this guide on how to throw a black cat baby shower, you'll discover:
How to curate an ambiance that blends the mystique of black cats with the excitement of a baby shower.
Creative ideas for scrumptious and visually captivating black cat-inspired delicacies.
Engaging games and activities that weave the theme seamlessly into the celebration.
A playlist of music that sets the purr-fect mood and keeps the festivities lively.
Thoughtful gift and favor suggestions that reflect the theme and delight your guests.
Expert tips on what to wear to embody the playful spirit of the occasion.
What is a Black Cat Baby Shower
A Black Cat Baby Shower is a theme party for expectant mothers who are fans of black cats, Halloween, or all things spooky. The party's theme revolves around the mysterious and adorable feline creature, incorporating ele
This halloween themed baby shower revolves around a witch and her black cat.ments of darkness, magic, and superstition into the decor, food, games, and activities.
Black Cat Baby Shower Decorations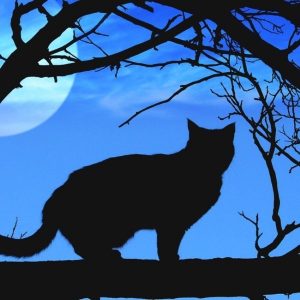 The first thing we will look at is the party supplies and party decorations you will need to consider for your black cat baby shower. Here are some ideas for black cat baby shower party decorations that will make your venue look truly awesome. Perfect for any party or baby shower with a halloween vibe to it.
Feline Centerpieces: Craft or purchase black cat figurines or plush toys to serve as enchanting centerpieces. Arrange them amidst lush greenery or atop stacks of vintage books for an added touch of elegance.
Check it out by clicking here.
Mystical Backdrops: Design a backdrop featuring a larger-than-life silhouette of a black cat against the moonlit night. Hang it as a focal point behind the main table, creating a mesmerizing and Instagram-worthy setting.
Check out these mystical backdrops by clicking here.
Luminous Lanterns: Illuminate the space with soft, dim lighting using black cat-shaped lanterns or tea light holders. These charming accents will cast a spell of enchantment throughout the room.
Check out these lanterns by clicking here.
Whimsical Wall Art: Decorate the walls with framed prints or posters showcasing intricate black cat illustrations, mystical moons, and stars. This artwork adds a touch of sophistication to the ambiance.
Check out these halloween wall arts by clicking here.
Elegant Table Settings: Set the table with black and gray tablecloths adorned with subtle paw print patterns. Use silver or metallic accents for cutlery and tableware, evoking an air of refined enchantment.
Check out these dark table settings by clicking here.
Black Cat Baby Shower Food
The culinary offerings at a Black Cat Baby Shower blend playful creativity with mouthwatering flavors, delighting guests with both visual and gastronomic treats. Here are some delectable food ideas that will be more than loved by the guests at your baby shower:
Purr-fect Paw Prints: Serve bite-sized appetizers or desserts decorated with delicate paw print patterns. From savory finger foods to sweet treats, these paw prints are a charming addition to your menu.
Moonlit Delicacies: Craft crescent-shaped sandwiches, cookies, or pastries to evoke the mystique of a moonlit night. Their unique shape adds an element of enchantment to the spread.
Cauldron Confections: Present your sweet treats in miniature cauldrons or black cat-shaped bowls, adding a touch of whimsy to your dessert display.
Bewitching Beverages: Create signature mocktails or cocktails with playful names, such as "Black Cat Elixir" or "Moonlit Magic." Add colorful garnishes or edible glitter for an extra touch of enchantment.
Mystical Cake: Crown the celebration with a cake adorned with a graceful black cat silhouette against a starry night sky. The cake becomes both a centerpiece and a delicious work of art.
Let your creativity run wild as you weave the magic of black cats and whimsy into your decorations and culinary offerings. From elegant centerpieces to delectable treats, each detail contributes to an ambiance that is both captivating and enchantingly unique.
Check out this halloween tableware by clicking here.
Black Cat Baby Shower Games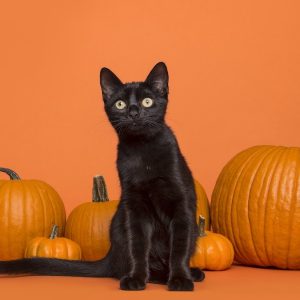 The great thing about throwing a black cat baby shower is the options you have when it comes to games and entertainment. You can choose between traditional baby shower themed games, witch and black cat themed games and halloween themed games. Here are some ideas for games you could enjoy with guests at a black cat baby shower.
Mystical Trivia: Test your guests' knowledge of black cat folklore, superstitions, and baby-related facts. Create a trivia game with intriguing questions and surprising answers that will have everyone intrigued.
Check out these folklore trivia games by clicking here.
Black Cat Bingo: Design custom bingo cards featuring adorable black cat illustrations or spooky elements. As you play, mark off the squares that correspond to gifts the parents-to-be receive, adding an element of excitement to gift opening.
Check out these bingo games by clicking here.
Whisker Measuring: Play a guessing game where guests estimate the length of a black cat's whisker. Provide a ribbon or string for each guest to cut to the length they believe matches the whisker's size. The closest estimate wins a prize.
Baby Items Scavenger Hunt: Hide baby items throughout the venue, and give guests a list of clues or riddles to solve in order to find them. Incorporate a black cat theme into the clues for an extra layer of enchantment.
Check out these scavenger hunt games by clicking here.
Cauldron Toss: Set up cauldron-shaped baskets and have guests take turns tossing small black cat plush toys into them. Award points based on accuracy, and the guest with the highest score wins a prize.
Check out these cauldron toss games by clicking here.
Black Cat Baby Shower Music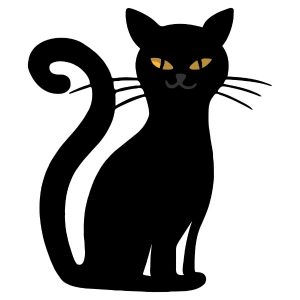 Set the purr-fect ambiance for your Black Cat Baby Shower with a playlist that evokes both mystery and joy. The right music will infuse your celebration with a touch of enchantment, making every moment feel magical:
Eerie Elegance: Choose hauntingly beautiful instrumental pieces that capture the essence of a moonlit night. Strings, pianos, and flutes can create an elegant yet mysterious atmosphere.
Playful Tunes: Incorporate whimsical songs that celebrate cats, magic, and the joy of welcoming a little one. Tracks with a hint of playfulness will keep the mood light and joyful.
Classic Crooners: Include timeless classics that exude charm and elegance. These songs can add a touch of sophistication while still fitting the playful theme.
Sound of Laughter: Infuse your playlist with tracks that inspire laughter and merriment. Songs that invite guests to dance, sing along, or simply enjoy the company of loved ones are a must.
Moonlit Melodies: Select songs that evoke the serene beauty of a moonlit night. Soft melodies and soothing vocals can create a calming and magical atmosphere.
Let the games and music guide your guests through a journey of delightful entertainment and enchanting melodies. With these elements in place, your Black Cat Baby Shower will be a celebration filled with laughter, mystery, and lasting memories.
Your best option for music if you are to throw a Black Cat baby shower is Amazon Music. You will never ever be without the perfect song at your fingertips for any party you throw. You can check out the best deals for Amazon Music by clicking here.
Black Cat Baby Shower Gifts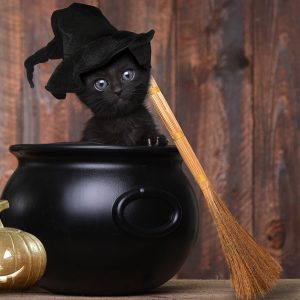 Choosing the perfect gifts for a Black Cat Baby Shower allows you to embrace the whimsy of the theme while celebrating the imminent arrival of the little one. Here are some thoughtful gift ideas that capture the enchantment of the occasion:
Cuddly Companions: Delight the parents-to-be with adorable black cat-themed baby blankets, onesies, or stuffed animals. These cozy gifts are both practical and heartwarming.
Check out these black cat baby blankets by clicking here.
Storybook Magic: Select children's books that feature black cats as endearing characters. Whether it's a classic tale or a new adventure, these storybooks will create cherished reading moments for the growing family.
Check out these black cat themed storybooks by clicking here.
Nursery Decor: Choose wall art, mobiles, or nursery accessories adorned with charming black cat designs. These decorative pieces will add a touch of whimsy to the baby's space.
Check out these black cat nursery decor by clicking here.
Magical Keepsakes: Opt for keepsake items such as black cat-shaped baby handprint or footprint kits. These treasures will forever capture the memory of this enchanting celebration.
Playful Accessories: Consider black cat-themed baby clothing accessories, like hats, booties, or bibs. These charming accents add a playful touch to any outfit.
Check out these black cat baby clothings by clicking here.
Black Cat Baby Shower Favors
Express your appreciation to your guests for sharing in the magical celebration with enchanting Black Cat Baby Shower favors. These delightful tokens of gratitude will leave a lasting impression:
Cat Charm Bracelets: Gift guests with dainty bracelets featuring delicate black cat charms. These accessories serve as charming reminders of the joyful occasion.
Check out these black cat lucky charms by clicking here.
Black Cat Keychains: Provide stylish keychains adorned with black cat motifs. Practical and fashionable, these favors will be a hit among your attendees.
Check out these black cat keychains by clicking here.
Magical Candles: Offer scented candles with labels depicting black cat silhouettes against a moonlit backdrop. Guests will love these bewitching keepsakes.
Check out these candles by clicking here.
Mini Cauldron Treats: Fill small cauldron-shaped containers with black cat-shaped chocolates or candies. These whimsical treats are sure to delight guests of all ages.
Check out these mini cauldrons by clicking here.
Mystical Magnets: Give guests refrigerator magnets featuring charming black cat illustrations. These functional favors will add a touch of enchantment to their homes.
Check out these black cat magnets by clicking here.
As you choose gifts and favors that embrace the spirit of the Black Cat Baby Shower, you're not only celebrating the impending arrival of the little one but also creating cherished memories for all who attend. Each gift and favor becomes a symbol of love, joy, and the magic of this special occasion.
What to Wear to a Black Cat Baby Shower
Dressing for a Black Cat Baby Shower allows you to embrace the enchanting theme while showcasing your personal style. Whether you're a fan of subtle elegance or bold creativity, here are some outfit ideas to ensure you're ready to celebrate in purr-fect fashion:
Mystical Monochrome: Opt for an all-black ensemble with subtle cat-themed accessories. A black dress, jumpsuit, or slacks paired with a cat-ear headband or subtle cat brooch adds an element of mystery and elegance.
Whimsical Prints: Embrace the theme with clothing featuring black cat patterns. A blouse, skirt, or scarf adorned with charming cat motifs exudes playful charm and is a delightful nod to the occasion.
Elegant Accessories: Add a touch of sophistication to your outfit with black cat-inspired accessories. A statement necklace, earrings, or a chic handbag featuring cat details can elevate your look.
Subtle Cat Flair: If you prefer a more understated approach, choose a classic outfit and let cat-themed accessories steal the spotlight. A simple dress paired with cat-shaped earrings or a pendant offers a refined yet playful touch.
Monochromatic Magic: Create a striking look by combining different shades of black and gray. A mix of textures, such as lace, velvet, or faux fur, adds depth and dimension to your ensemble.
Playful Footwear: Consider wearing cat-themed footwear, such as ballet flats or ankle boots adorned with cat face embroidery or embellishments. These shoes add a whimsical touch to any outfit.
Remember, the key to a purr-fect outfit is to have fun and express your unique style while embracing the enchantment of the Black Cat Baby Shower theme. Whether you choose elegant accessories, playful prints, or subtle nods to the theme, your attire will contribute to the magical atmosphere of the celebration.
Take a look at more Baby Shower ideas and article here.