Are you ready to transport yourself and your friends back to the vibrant era of big hair, neon colors, and funky beats? Look no further! In this step-by-step guide, we'll show you how to throw an epic retro 80s party that will have your guests dancing, reminiscing, and creating memories that will last a lifetime. So put on your leg warmers, grab your boombox, and let's dive into the ultimate 80s extravaganza!
Setting the Stage: Theme and Decorations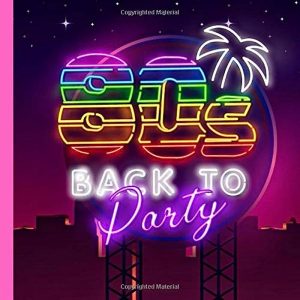 To throw an epic retro 80s party, it's crucial to create the perfect ambiance that instantly transports your guests to the heyday of the 80s. Embrace the vibrant and energetic spirit of the decade by incorporating bold colors, iconic symbols, and popular trends. Here are some ideas to set the stage:
Creating the Perfect 80s Playlist
No 80s party is complete without an incredible playlist that captures the essence of the era. Curating a mix of iconic hits and forgotten gems will keep your guests dancing all night long. Here's how to create the perfect 80s playlist:
Dressing the Part: Costumes and Fashion
Encourage your guests to go all out with their 80s-themed costumes and fashion choices. The 80s were known for their bold and unique styles, so here are some tips to help your guests embrace the fashion of the era:
Food and Drinks: 80s-Inspired Delights
No party is complete without delicious food and drinks to satisfy your guests' appetites. Incorporate 80s-inspired delights that will take everyone on a culinary journey back in time. Here are some ideas for your retro 80s menu:
Totally Tubular Tacos: Create a build-your-own taco bar with a variety of fillings and toppings. Offer classics like beef, chicken, and vegetarian options. Don't forget to include 80s favorites like crispy shell tacos and tangy salsa.
Radical Sliders: Mini sliders are a crowd-pleasing option. Serve them with a twist by offering toppings like neon-colored ketchup and mustard, and include retro flavors like tangy barbecue sauce and pickle relish.
Pac-Man Pizza: Order or make pizzas in the shape of the iconic Pac-Man character. Top them with a variety of toppings to suit different tastes. Don't forget to include some classic toppings like pepperoni and mushrooms.
Flashback Desserts: Indulge your guests' sweet tooth with nostalgic desserts. Serve brightly colored Jello cups, mini cupcakes with neon frosting, and a colorful candy buffet with treats like Pop Rocks and Pixy Stix.
Games and Activities: Fun with a Nostalgic Twist
Keep your guests entertained with games and activities that embrace the spirit of the 80s. Here are some ideas to get the party started:
Capturing the Memories: Photo Booth and Props
Ensure that the memories of your epic retro 80s party last a lifetime by setting up a photo booth area with props that capture the essence of the era. Here's how to create a photo-worthy experience:
Backdrop Extravaganza: Create a vibrant and eye-catching backdrop for your photo booth. Hang a sequined curtain, set up a graffiti wall, or use a backdrop with geometric patterns reminiscent of the 80s. Check out this range of 80's themed party backdrops by clicking here.
Prop Paradise: Fill a table with a variety of 80s-themed props for your guests to use in their photos. Include items like oversized sunglasses, colorful wigs, inflatable boomboxes, and cardboard cutouts of 80s celebrities. Check out this range of 80's themed party props by clicking here.
Polaroid Fun: Provide a Polaroid camera or instant photo printer so that guests can take home physical copies of their pictures as keepsakes. This adds a nostalgic touch and allows for immediate gratification. Check out Polaroid cameras by clicking here.
Invitations and Promotion: Spreading the Word
To ensure a successful turnout for your epic retro 80s party, it's important to effectively spread the word and create excitement among your potential guests. Here's how to promote your event:
Funky Invitations: Design eye-catching invitations that reflect the 80s theme. Use vibrant colors, neon fonts, and incorporate iconic 80s imagery like cassette tapes or Rubik's Cubes. Include all the essential details: date, time, location, and any specific instructions or dress code. Check out 80's themed party invitations by clicking here.
Social Media Buzz: Leverage the power of social media to create buzz around your party. Create a dedicated event page or hashtag and share sneak peeks of the preparations, playlists, and costume ideas to generate excitement and encourage sharing.
Word of Mouth: Encourage your guests to invite their friends by word of mouth. Personal recommendations can be powerful, so make sure your guests are excited and have a great time at your party. Offer incentives for bringing additional guests or sharing the event on their social media platforms.
Safety First: Tips for a Smooth and Secure Event
While throwing an epic retro 80s party is all about having fun, it's crucial to prioritize safety and ensure a smooth and secure event. Here are some tips to keep in mind:
Venue Considerations: Choose a venue that can comfortably accommodate your guest list and provide adequate space for dancing, games, and activities. Consider any necessary permits or permissions required for hosting an event.
Security Measures: If hosting a larger event, consider hiring security personnel to maintain order and ensure the safety of your guests. Additionally, have a plan in place for handling any potential issues that may arise.
Food and Allergies: Take into account any dietary restrictions or allergies your guests may have when planning your menu. Clearly label food items that contain common allergens and provide alternative options for those with specific dietary needs.
Wrapping Up: Thank You and Farewell
As the night comes to a close and your epic retro 80s party draws to an end, it's important to express your gratitude and bid farewell to your guests. Here are some ways to wrap up the event:
Thank You Speech: Take a moment to address your guests and express your heartfelt thanks for their presence at your party. Share some highlights from the evening and acknowledge any individuals who helped make the event a success.
Party Favors: Send your guests off with a token of appreciation by providing them with 80s-themed party favors. Consider items like custom mixtapes or CDs with the party playlist, neon-colored sunglasses, or personalized keychains. Check out these 80's themed party favors by clicking here.
Memory Wall: Set up a memory wall where guests can leave notes, photos, or drawings to commemorate the event. This creates a lasting memento and allows everyone to reflect on the fun-filled night. Check out this board which is ideal for a memory wall by clicking here.
Remember, the key to throwing an epic retro 80s party is to immerse your guests in the vibrant and nostalgic atmosphere of the era. By following this step-by-step guide, incorporating the right elements, and paying attention to the details, you'll create an unforgettable experience that will leave your guests talking about it for years to come.
So put on your dancing shoes, turn up the volume, and get ready to throw the most epic retro 80s party ever!
Take a look at more how to party guides here.