Welcome to "How to Throw a Preppy Themed Birthday Party – A Complete Guide!" If you're looking to host a celebration that exudes timeless charm, sophistication, and a touch of elegance, then a preppy themed birthday party is the perfect choice. This guide will take you through every step of the party planning process, from selecting the right invitations to creating a classic ambiance that will impress your guests.
If you are about to throw a preppy themed birthday party check out this party decorations and supplies set by clicking here.
How to Throw a Preppy Themed Birthday Party – A Complete Guide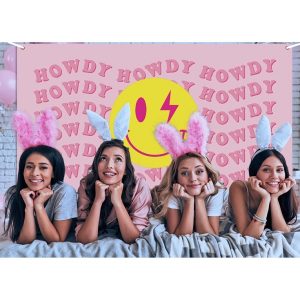 Whether you're a seasoned party planner or a first-timer, get ready to dive into a world of vibrant colors, refined decor, and delightful traditions that will make your birthday bash an unforgettable affair. Let's get started on curating a celebration that epitomizes preppy perfection!
What is Preppy Themed Birthday Party?
A Preppy Themed Birthday Party is an event that draws inspiration from the preppy subculture, known for its timeless, sophisticated, and well-groomed style. Rooted in the traditions of the American East Coast elite, the preppy theme embraces classic elements and combines them with modern touches. Think crisp and clean aesthetics, vibrant colors, and a sense of refined elegance that reflects a well-bred and upscale lifestyle.
To achieve the preppy look, focus on incorporating key elements such as:
Color Palette: Classic preppy colors include navy blue, pastel pinks, greens, yellows, and crisp whites. The palette sets the tone for the entire celebration, bringing a sense of fresh, vibrant, and cohesive style to the party.
Attire: Encourage guests to dress in preppy attire, such as polo shirts, dresses with nautical patterns, chino shorts, boat shoes, and pearl accessories. A bit of seersucker or madras print wouldn't be amiss either.
Symbols and Icons: Preppy culture is often associated with iconic symbols like sailboats, anchors, whales, and nautical motifs. These elements can be incorporated into various aspects of the party, from invitations to decorations.
Traditional Elements: Embrace traditional activities and sports, such as croquet, lawn games, and tennis, to add a touch of refined nostalgia to the celebration.
A preppy themed birthday party provides an opportunity to create an atmosphere of sophistication while celebrating the joyous occasion in a distinctive and elegant manner.
If you are about to throw a preppy themed birthday party check out this party decorations and supplies set by clicking here.
Preppy Themed Birthday Party Decorations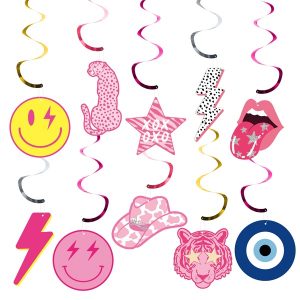 The key to a successful preppy themed birthday party lies in the thoughtful use of decorations to create a polished and inviting ambiance. Incorporate the following decor ideas to set the stage for a perfect preppy celebration:
Remember, attention to detail is crucial for a preppy themed birthday party. By using these decorations, you can create an ambiance that celebrates sophistication and showcases your impeccable taste in party planning.
Preppy Themed Birthday Party Food Ideas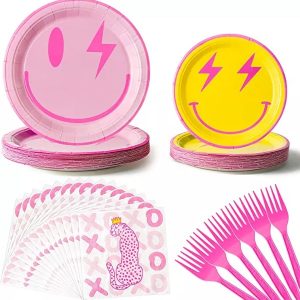 A Preppy Themed Birthday Party is not just about the decor; it's also an opportunity to indulge in delicious and classy food that complements the refined ambiance. Here are some delightful food ideas that will leave your guests savoring every bite:
Tea Sandwiches: Serve an assortment of finger sandwiches with classic fillings like cucumber and cream cheese, smoked salmon, egg salad, and chicken salad. Cut them into dainty triangles or squares for an elegant touch.
Lobster Rolls: Offer mini lobster rolls as a luxurious seafood treat. Fill buttery, toasted rolls with succulent lobster meat dressed in a light mayonnaise dressing, reminiscent of coastal New England cuisine.
Gourmet Cheese Platter: Create a sophisticated cheese platter featuring a selection of fine cheeses, fruits, nuts, and artisanal crackers. Offer a mix of soft and hard cheeses for a balanced spread.
Shrimp Cocktail: Serve chilled shrimp with a zesty cocktail sauce in individual shot glasses or on a decorative platter. This classic appetizer adds a touch of elegance to the party.
Fruit Skewers: As a refreshing and colorful option, arrange fruit skewers with a mix of seasonal berries, melon, and grapes. They not only taste delicious but also add a vibrant pop to the table.
Champagne and Mocktails: Offer a selection of champagne, sparkling wine, or non-alcoholic mocktails like virgin mojitos or sparkling lemonade for guests to enjoy a bubbly celebration.
Petit Fours and Macarons: Treat your guests to bite-sized indulgence with a display of petit fours and macarons in various flavors and colors. These delicate desserts perfectly complement the preppy theme.
Crab Cakes: Serve crispy and flavorful crab cakes as a seafood specialty. Accompany them with a tangy aioli or tartar sauce for an extra layer of taste.
Mini Quiches: Offer an assortment of mini quiches with various fillings, such as spinach and feta, mushroom and gruyere, or classic Lorraine. These savory delights are sure to please the crowd.
Lemon Bars: End the meal on a zesty note with tangy lemon bars. Their bright citrus flavor and buttery crust make them a delightful dessert option.
Remember to present the food with attention to detail, using elegant serving platters and garnishes. These preppy-themed food ideas will not only delight your guests' taste buds but also add a touch of sophistication to your birthday celebration.
Check out this range of preppy themed tableware by clicking here.
Preppy Themed Birthday Party Games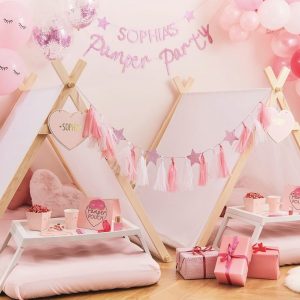 A Preppy Themed Birthday Party calls for games that align with the refined and fun-loving spirit of the occasion. Here are some classic games that guests of all ages will enjoy:
Croquet: Set up a croquet lawn and invite guests to play this quintessential preppy pastime. Encourage friendly competition and provide prizes for the winners. Buy Here
Lawn Bowling: Arrange a lawn bowling area for a leisurely and entertaining game. Use vintage-style wooden lawn bowls to enhance the preppy vibe. Buy Here
Tennis Challenge: If you have access to a tennis court, organize a friendly tennis tournament. Pair guests up for doubles matches and award trophies or ribbons to the winning team. Buy Here
Polo-Inspired Relay Race: Design a relay race with a polo twist. Set up stick horses for participants to "ride" as they race to complete the course. Buy Here
Cornhole Toss: Provide cornhole boards with preppy-themed designs and let guests showcase their tossing skills. It's a laid-back game that adds a touch of casual fun to the party. Buy Here
Preppy Trivia: Host a preppy-themed trivia game that tests guests' knowledge of preppy culture, iconic brands, and historical facts related to the theme. Buy Here
Yacht Party Bingo: Create custom bingo cards with preppy symbols, icons, or items commonly found on a yacht party. Call out the items, and guests can mark them off their cards to win prizes. Buy Here
Pearl Hunt: Organize a treasure hunt with pearl necklaces hidden around the venue. The guest who finds the most pearls gets to keep them as a prize. Buy Here
Boat Race:* If you have access to a pool, set up small boats made from materials like cork or plastic, and let guests race their boats across the pool using straws or blowers. Buy Here
Best Dressed Contest: Hold a "Best Dressed" contest and let guests showcase their preppy style. Award prizes for the most preppy, creative, and stylish outfits.
These preppy themed party games will infuse the celebration with a sense of elegance and amusement, making it an unforgettable event for everyone involved.
Preppy Themed Birthday Party Favors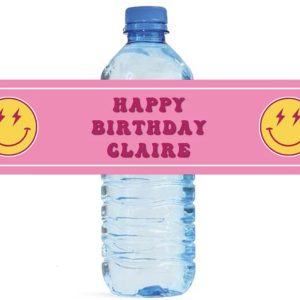 Sending guests home with thoughtful and stylish party favors is a wonderful way to express gratitude for their presence at the Preppy Themed Birthday Party. Here are some fabulous favor ideas that perfectly align with the sophisticated theme:
Monogrammed Gifts: Personalize favors with guests' initials or names. Consider monogrammed items like tote bags, keychains, or handkerchiefs for a touch of preppy elegance. Buy Here
Nautical Accessories: Send guests home with nautical-themed accessories like anchor or sailboat-shaped bottle openers, bracelets, or cufflinks. Buy Here
Preppy Notebooks: Provide stylish notebooks with preppy patterns, such as stripes or gingham, for guests to jot down their thoughts and ideas. Buy Here
Gourmet Treats: Offer gourmet treats like macarons, tea cookies, or chocolate-covered strawberries packaged in elegant boxes or bags. Buy Here
Sunglasses: Hand out classic wayfarer-style sunglasses in vibrant preppy colors as fashionable and functional favors. Buy Here
Linen Hand Towels: Present guests with soft linen hand towels featuring embroidered initials or preppy motifs. Buy Here
Preppy-Themed Books: Give guests a book related to preppy culture, fashion, or lifestyle, adding a thoughtful touch to the favors.
Scented Candles: Offer scented candles with refreshing fragrances like sea breeze or citrus, wrapped in preppy-inspired packaging. Buy Here
Luggage Tags: Provide luggage tags in vibrant colors, making them both practical and a fashionable addition to guests' travel gear. Buy Here
Preppy Style Hair Accessories: For female guests, consider preppy headbands, hair ribbons, or hairpins in classic patterns like polka dots or checks. Buy Here
Remember to package the favors neatly and add a personalized thank-you note to show your appreciation. These preppy-themed party favors will leave a lasting impression and serve as a delightful memento of the celebration.
What to Wear to a Preppy Themed Birthday Party
Dressing the part is an essential aspect of a Preppy Themed Birthday Party. Embrace the timeless charm and sophistication of preppy fashion with these outfit ideas:
For Ladies:
For Gentlemen:
Ensure your outfit is well-groomed and accessorize with pearl jewelry, headbands, or classic sunglasses to perfect the preppy look. Embrace the style, confidence, and sophistication of the preppy subculture, and you'll be all set to enjoy the birthday celebration in true preppy fashion!
If you are about to throw a preppy themed birthday party check out this party decorations and supplies set by clicking here.
Take a look at more preppy themed party ideas here.