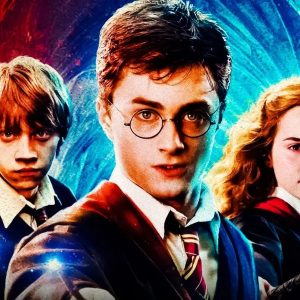 If you are here like so pretty much everyone else looking for ideas and inspiration for a halloween party theme what better ideas is there than if you throw an Harry Potter halloween party.
In this guide we will look at everything you need to throw this Harry Potter themed party. We will look at the halloween party decorations, supplies, food, music, games and party favors you will need so you can host the best ever halloween party.
How to Throw a Harry Potter Halloween Party – The Ultimate Guide
Let us waste no time at all and start this guide with a quick explanation as to what a Harry Potter halloween party actual is all about.
What is a Harry Potter Halloween Party
A Harry Potter Halloween Party is a bewitching tribute to the iconic wizarding world of J.K. Rowling. Attendees step into Hogwarts, dressing as wizards, wielding wands, and experiencing the magic of the beloved series. Decorations mirror the Great Hall, with house colors and themed activities like Quidditch matches and potion-making. It's a nostalgic celebration that brings the magic of Harry Potter to life, offering fans a night of enchantment and camaraderie.
Harry Potter Halloween Party Decorations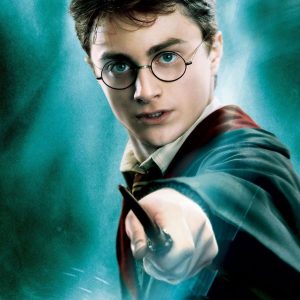 The first thing we will consider when putting together you Harry Potter halloween party is the halloween decorations you will need. Here are some ideas to get your started :-
Floating Candles:
Suspend candles from the ceiling to recreate the magical atmosphere of the Great Hall.
While you would be correct thinking the floating candles seen in the Harry Potter movies are the work of CGI effects it is indeed possible to create the same effects for your own party. You can actually buy floating LED candles by clicking here.
House Banners:
Adorn walls with banners representing each Hogwarts house. These are the perfect way decorate your room. You can check them out by clicking here.
Platform 9¾ Backdrop:
Set up a backdrop resembling the Hogwarts Express platform for an immersive entryway. You can of course choose a backdrop that transforms your venue into any other Harry Potter location. Another hugely popular choice is a Hogwarts backdrop.
Take a look at this superb range of Harry Potter style backdrops by clicking here.
Luggage Trolleys:
Place trolleys at the platform with trunks and owl cages for an authentic touch.
You can find a good selection of luggage trolleys just like the ones seen in the movies by clicking here.
"Daily Prophet" Newspaper:
Display a tattered newspaper for a touch of realism.
"Wax-Sealed" Envelopes:
Scatter envelopes around the room as if they've just been delivered by owls.
You can find envelops and wax-seals by clicking here.
Magical Creature Figurines:
Decorate tables with figurines of creatures from the wizarding world.
You can find various Harry Potter and other magical creature figures by clicking here.
Ollivanders-Style Wand Displays:
Create a wand display reminiscent of Ollivanders wand shop. For this you will need a selection of Harry Potter wands and display stands to arrange them on.
Take a look at this selection of Harry Potter wands by clicking here.
You can also find a great range of ornate wand stands by clicking here.
House Corners:
Set up themed corners for each house with banners, colors, and sorting hats.
You can find a great range of house banners and flags for your house corner by clicking here.
Harry Potter Halloween Party Food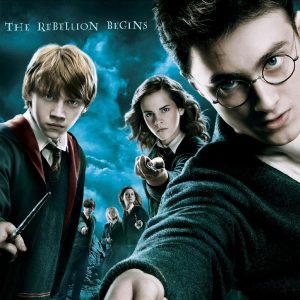 A party is simply not a party if you do not put on a great selection of food. A Harry Potter halloween party is no exception to that rule. With that in mind here are some ideas for food you could include on you menu :-
Butterbeer: Serve the iconic drink cold or warm, topped with butterscotch cream.
Potions-Inspired Drinks: Craft colorful drinks with creative names, offering a variety of flavors.
"Hagrid's Rock Cakes": Offer baked treats that mimic the famous rock cakes from Hagrid's kitchen.
"Golden Snitch" Cake Pops: Serve cake pops shaped like the elusive Golden Snitch.
"Bertie Bott's Every Flavor Beans": Provide a playful assortment of jelly beans in unconventional flavors.
Chocolate Frogs: Feature chocolate frog treats with collectible wizard cards.
Licorice Wands: Present licorice sticks that resemble magical wands.
Pumpkin Pasties: Serve these savory pastries inspired by the wizarding world.
"Honeydukes" Dessert Table: Set up a table with various candies displayed in glass jars for a sweet selection.
There is every possibility you will not want to use your family tableware for this halloween party . This will most certainly be the case if this is going to be a halloween party for children. With that in mind you can find Harry Potter themed tableware by clicking here.
Harry Potter Halloween Party Games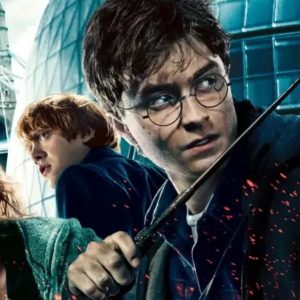 Nest let us consider suitable games you can offer your guests. Here are some awesome Harry Potter inspired party games we are sure your guests will truly love :-
Triwizard Tournament:
Organize challenges like a mini Triwizard Tournament with tasks representing each task from the series.
Potion-Making Contest:
Set up a potion-making station where guests create magical concoctions using various ingredients.
You can find everything you need to create your own potion making station by clicking here.
Spellcasting Duel:
Have a friendly spellcasting competition with wands and creative spell names.
Magical Creatures Hunt:
Hide magical creatures around the venue for guests to find, similar to a scavenger hunt.
You can find a huge range of magical creature figures for your creatures hunt by clicking here.
Quidditch Match:
Adapt a Quidditch game with hoops and broomsticks for a dynamic outdoor activity.
Find all the things needed to create your own Quidditch match by clicking here.
Horcrux Hunt:
Design a hunt for hidden Horcruxes or relevant magical objects from the series.
Sorting Hat Ceremony:
Conduct a Sorting Hat ceremony where guests get sorted into their respective houses.
Trivia Challenge:
Host a Harry Potter trivia quiz to test guests' knowledge of the wizarding world.
You can find the most awesome Harry Potter trivia game by clicking here.
Costume Contest:
Have a costume contest with categories like "Best Dressed Witch," "Most Authentic Wizard," and more.
Find Harry Potter costumes by clicking here.
Harry Potter Halloween Party Music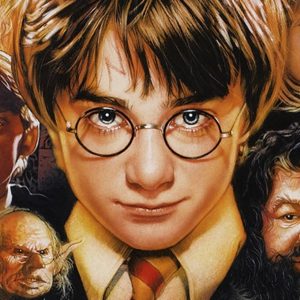 When it comes to party music you really do not want the date of the party to arrive only for you to still be sat worrying about your playlist. This is the reason you should make sure you have a preselected playlist for your guests to enjoy. This way you simply press the play button and your music player will do the rest. Here are some ideas for your Harry Potter halloween party music :-
Movie Soundtracks: Play the iconic Harry Potter movie soundtracks for an instantly recognizable atmosphere.
Magical Ambiance: Create a playlist with enchanting instrumental tracks to evoke the magical ambiance of the wizarding world.
Yule Ball Playlist: Set the tone with tracks inspired by the Yule Ball, mixing classical and modern music.
Wizard Rock: Include music from the Wizard Rock genre—fan-created songs inspired by the series.
Character Themes: Feature theme songs for various characters to immerse guests in their individual stories.
Quidditch Match Vibes: Include lively tracks that capture the excitement of a Quidditch match.
Dance Floor Hits: Add some dance floor hits with a magical twist to keep the party energy high.
Spooky Sounds: Incorporate eerie and atmospheric sounds to enhance the Halloween vibe.
Requests from Guests: Allow guests to request their favorite magical tunes to make the playlist interactive.
Your best option for music if you are to throw a Harry Potter Halloween Party is Amazon Music. You will never ever be without the perfect song at your fingertips for any party you throw. You can check out the best deals for Amazon Music by clicking here.
Harry Potter Halloween Party Favors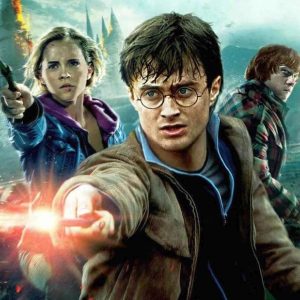 You are most likely going to want to say a big thank you to your guests. With that in mind make sure you have a good selection of Harry Potter party bags (find by clicking here.) and party favors. Here are some ideas which would make perfect party favors.
Wand Party Favors: Provide mini replica wands for guests to take home, each representing a different character or house.
You can find a range of magic wands by clicking here.
Chocolate Frog Treats: Offer chocolate frog candies with collectible wizard cards as a nod to the Hogwarts Express.
You can find chocolate frog molds by clicking here.
House Scarves or Ties: Gift guests with scarves or ties in their respective house colors.
Find Harry Potter scarfs and neckties by clicking here.
Spellbook Journals:
Provide notebooks designed to resemble spellbooks, perfect for jotting down magical thoughts.
You can find spellbook journals by clicking here.
Potion Bottles: Fill small bottles with colorful liquids as creative potion-themed party favors.
Find potion bottles by clicking here.
Temporary Tattoos: Have a selection of temporary tattoos featuring iconic symbols from the wizarding world.
There is a huge range of temporary tattoo you can choose from by clicking here.
Magical Creature Plushies:
Hand out plush toys of magical creatures for guests to adopt.
Wizard Glasses:
Provide round glasses reminiscent of Harry's iconic frames.
You can get Harry Potter glasses by clicking here.
Marauder's Map Prints:
Offer prints of the Marauder's Map for guests to display as wall art.
Find replicas of Marauder's map by clicking here.
What to Wear to a Harry Potter Halloween Party
House Robes and Scarves: Embrace your house pride by wearing robes and scarves in your chosen Hogwarts house colors.
Wizard-Inspired Attire: Opt for clothing that channels wizarding fashion with long coats, vests, and flowing skirts.
Character Costumes: Dress as your favorite Harry Potter character, from Harry himself to Luna Lovegood or Hagrid.
House Ties: Wear a tie in your house colors paired with a simple white shirt for a subtle yet effective look.
Magical Accessories: Add wand holsters, magical creature pins, and themed jewelry for a touch of enchantment.
Quidditch Jerseys: Sport a Quidditch jersey representing your favorite Hogwarts team.
Wand and Glasses: The classic combo of a wand and round glasses instantly transforms you into a wizard.
School Uniform-Inspired Outfits: Pair a white shirt with a skirt or slacks for a nod to Hogwarts uniforms.
Creative Mashup: Combine elements from different characters for a unique and imaginative ensemble.
Take a look at more halloween stuff here.