Welcome to the ultimate guide on how to throw a Coachella themed party, where music, art, and bohemian spirit come together to create an unforgettable experience! If you've ever dreamt of bringing the iconic Coachella festival vibes to your own backyard, this is your chance to immerse yourself and your guests in the desert magic and free-spirited atmosphere that defines the world's most famous music extravaganza.
How to Throw a Coachella Themed Party – The Ultimate Guide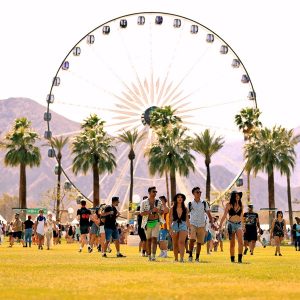 In this comprehensive guide on how to throw a Coachella themed party, we will walk you through every step of the party planning process, from transforming your space into a boho oasis to curating a lineup of activities and decor that mirror the essence of Coachella. So, grab your flower crowns, don your best festival attire, and get ready to dance beneath the stars as we take you on a journey of creativity, celebration, and endless fun.
Whether you're celebrating a milestone birthday, hosting a summer soirée, or simply gathering your closest friends for a night of musical revelry, a Coachella themed party offers an escape to a world where good vibes reign supreme and imagination knows no bounds. From the sun-kissed days to the dazzling nights, we'll help you capture the essence of this world-renowned festival and infuse it into every aspect of your celebration.
With curated playlists, bohemian decor, mouthwatering treats, and engaging activities inspired by the Coachella experience, your guests will be transported to the heart of the California desert without ever leaving the comfort of your own party space.
So, get ready to embrace the carefree spirit of Coachella, where music unites souls, art ignites creativity, and memories are etched in the hearts of all who attend. Let's turn up the volume, paint the world in vibrant hues, and embark on an unforgettable journey to throw the Coachella themed party of a lifetime! Get your festival wristbands ready, and let's dive into the magic that awaits.
What is Coachella Themed Party?
A Coachella themed party is a celebration inspired by the iconic Coachella Music and Arts Festival, held annually in the Colorado Desert of California. This festival has become a cultural phenomenon, attracting music lovers, art enthusiasts, and free spirits from around the world. With its bohemian flair, vibrant energy, and diverse lineup of musical acts, Coachella has become more than just a music festival; it's a lifestyle and a symbol of creative expression.
Bringing the Coachella vibes to your own party allows you and your guests to experience the essence of this world-renowned event firsthand. It's an opportunity to revel in the carefree spirit, immerse yourself in art installations, and dance to the beats of your favorite tunes. A Coachella themed party captures the essence of the festival's iconic elements, such as flower crowns, flowing dresses, and boho-chic fashion.
The key to creating a memorable Coachella themed party is to infuse it with the festival's signature elements, from the decoration to the activities and music. Think colorful tapestries, dreamcatchers, and twinkling string lights that evoke the magical ambiance of the desert festival. Provide your guests with an array of eclectic food and drinks that reflect the diverse culinary offerings found at Coachella.
How to Decorate a Coachella Themed Party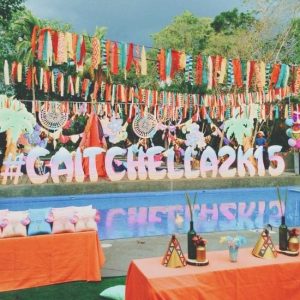 Do not let yourself become overwhelmed when it comes to Coachella themed party decorations. When it comest to decorating your party venue with Coachella themed party decorations you will find the process a lot easier than you may think.
When it comes to hosting a Coachella themed party, creating the right atmosphere is key to capturing the essence of the iconic music festival. Embrace the bohemian and laid-back vibes of Coachella with these exciting decoration ideas:
By incorporating these decoration ideas into your Coachella themed party, you'll transport your guests to the desert oasis of the iconic music festival and create a memorable experience filled with good vibes and festival magic.
Coachella Themed Party Food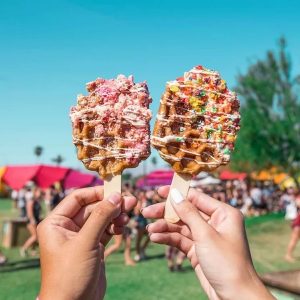 If you are wondering what do you serve at a Coachella themed party you have plenty of easy options to go with.
Food
No Coachella themed party is complete without a delectable spread of food that complements the vibrant and festive atmosphere. Just like the eclectic lineup of musical acts at the festival, your party menu should be a diverse and delightful fusion of flavors to tantalize your guests' taste buds. From refreshing bites to hearty dishes, here are some Coachella-inspired food ideas that will elevate your party experience:
Street-Style Tacos: Embrace the Southern California vibes with a taco bar featuring an assortment of fillings such as grilled chicken, carne asada, and marinated tofu for a vegetarian option. Provide an array of toppings like pico de gallo, guacamole, shredded cheese, and lime wedges, allowing guests to customize their tacos to perfection. Check out these taco holding stands by clicking here.
Festival Bowls: Create a build-your-own bowl station with a selection of colorful and nutritious ingredients. Offer options like quinoa, roasted veggies, black beans, fresh greens, avocado slices, and a variety of dressings. Your guests can mix and match to their heart's content, crafting their personalized festival bowl. Check out these bowls which are perfect by clicking here.
Gourmet Sliders: Serve up a slider station with mini versions of classic burgers, pulled pork, or portobello mushroom burgers for vegetarians. Add a twist with unique toppings like mango salsa, caramelized onions, and chipotle aioli for an explosion of flavors.
Veggie Skewers: Keep things fresh and light with colorful vegetable skewers. Grilled zucchini, bell peppers, cherry tomatoes, and mushrooms make for a delightful and healthy finger food option. Check out these skewers which would be perfect by clicking here.
Fresh Fruit Platter: Cool down the desert heat with a refreshing fruit platter featuring juicy watermelon, pineapple chunks, berries, and citrus slices. This colorful display of nature's candy is a hit among partygoers of all ages. Check out these platters which are perfect for serving your fruit by clicking here.
Festival-Inspired Snacks: Fill snack stations with festival-inspired treats like popcorn drizzled with flavored seasoning, spicy roasted chickpeas, and gourmet pretzel bites with various dips.
Drinks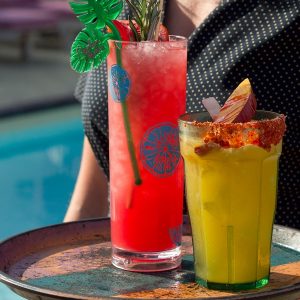 The Coachella spirit wouldn't be complete without an exciting selection of drinks to keep the party vibe going. Offer a mix of alcoholic and non-alcoholic beverages to cater to all guests:
Signature Cocktails: Craft a couple of signature Coachella cocktails to match the theme. Consider refreshing concoctions like a "Desert Breeze" made with vodka, fresh citrus juices, and a splash of sparkling water. Check out these cocktail glasses by clicking here.
Mocktails: Provide non-alcoholic mocktails for those who prefer a booze-free option. Create a "Sunset Spritzer" with orange juice, cranberry juice, and club soda, garnished with a citrus wheel. Check out these awesome mocktail recipes by clicking here.
Craft Beers: Stock up on a variety of craft beers that evoke the laid-back atmosphere of the festival.
Hydration Stations: Set up hydration stations with infused water, flavored lemonades, and iced teas to keep guests refreshed throughout the event. Check out these hydration stations by clicking here.
With this delectable array of food and drinks, your Coachella themed party will be a feast for the senses. Your guests will indulge in a culinary journey that complements the vibrant and celebratory spirit of the iconic festival.
Coachella Themed Party Games
In addition to the lively music and delicious food, a Coachella themed party wouldn't be complete without a variety of fun and engaging games to keep the festival spirit alive. These Coachella-inspired games will entertain your guests and create memorable moments throughout the event:
Music Trivia Challenge: Test your guests' knowledge of Coachella's iconic musical acts with a music trivia challenge. Prepare a list of questions about past headliners, famous performances, and fun facts about the festival. Divide guests into teams and see who can answer the most questions correctly. Check out this music trivia quiz game by clicking here.
Festival Fashion Showdown: Let your guests unleash their inner fashionistas in a Coachella-themed fashion show. Set up a DIY fashion booth with an array of boho accessories, flower crowns, face paint, and temporary tattoos. Guests can create their unique festival looks and then strut their stuff on the makeshift runway while the rest of the partygoers cheer them on.
Hula Hoop Contest: Get those hips moving and grooving with a hula hoop contest. Provide colorful hula hoops and see who can keep the hoop spinning the longest. It's a fun and entertaining game that brings out the childlike joy in everyone. Check out these hula hoops by clicking here.
Coachella Scavenger Hunt: Organize a scavenger hunt with clues that lead guests to various festival-themed items or landmarks around the party venue. Include iconic Coachella symbols like a mini stage, flower crown, guitar, festival poster, and even a campsite setup to add excitement and creativity to the hunt. Check out this scavenger hunt game by clicking here.
DIY Craft Stations: Channel the artistic spirit of Coachella by setting up DIY craft stations. Provide materials for guests to make friendship bracelets, dreamcatchers, tie-dye bandanas, and personalized festival flags. These crafts can also serve as unique party favors for guests to take home.
Giant Jenga: Bring out the giant Jenga blocks and challenge guests to a friendly game. This oversized version of the classic game will add a touch of nostalgia and excitement to the party.Check out this sssss by clicking here.
Limbo Contest: Keep the energy high with a limbo contest. Play some lively music, and guests can take turns trying to limbo under the bar. Lower the bar after each round until only one guest remains, making them the limbo champion. Check out all you need for a limo game by clicking here.
Bean Bag Toss: Set up a bean bag toss game with festival-themed targets, such as guitars, suns, or peace signs. Guests can compete to see who has the best aim and score the most points.Check out there bean bags which are perfect for this game by clicking here.
Karaoke Jam Session: Create a karaoke area and let guests unleash their inner rock stars. Provide a wide selection of popular songs, including hits from Coachella performers, and watch as your guests belt out their favorite tunes. Check out this karaoke machine by clicking here.
Coachella Bingo: Create custom bingo cards with Coachella-themed squares, such as "flower crown," "indie band performance," or "free-spirited dancer." As guests spot these items or actions during the party, they can mark them off on their bingo cards. Check out this Coachella bingo game by clicking here.
With these extra Coachella themed party games, your guests will be fully immersed in the festival atmosphere, laughing, bonding, and creating unforgettable memories together. These interactive activities will elevate the party experience and ensure that your Coachella themed celebration is a hit among all your guests.
Music for your Coachella Themed Party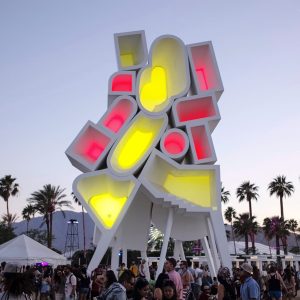 No Coachella themed party is complete without the perfect playlist to set the festival vibes. Coachella is known for its diverse lineup of musical genres, from indie rock and pop to electronic dance music and hip-hop. To recreate the authentic Coachella experience at your party, be sure to curate a playlist that captures the eclectic and vibrant spirit of the festival.
Here are some must-have music genres and artists to include in your Coachella themed party playlist:
Indie Rock: Coachella is renowned for showcasing a wide range of indie rock bands. Include artists like Arctic Monkeys, Tame Impala, The Strokes, Florence + The Machine, and Vampire Weekend to get your guests grooving to the indie beats.
Electronic Dance Music (EDM): Keep the party alive with EDM tracks from top-notch DJs like Calvin Harris, Zedd, Martin Garrix, and Kygo. These pulsating beats will have your guests dancing the night away.
Hip-Hop and Rap: Coachella often features top hip-hop and rap artists, so don't forget to include tracks from Kendrick Lamar, Childish Gambino, Travis Scott, and Cardi B to bring the rap vibes to your party.
Pop Hits: Add some catchy pop tunes to the mix with songs from Ariana Grande, Billie Eilish, Lizzo, and Dua Lipa. These chart-toppers will keep everyone singing along.
Classic Rock: Coachella also pays homage to classic rock legends. Consider including iconic tracks from bands like The Rolling Stones, The Who, Guns N' Roses, and Red Hot Chili Peppers for a nostalgic touch.
Alternative and Experimental: Coachella embraces alternative and experimental artists. Include music from acts like Radiohead, Lana Del Rey, Alt-J, and James Blake to add a unique twist to your playlist.
For the ultimate convenience in accessing all the tunes you need, Amazon Music is your go-to option. With Amazon Music, you can create playlists, explore curated playlists tailored to different moods and themes, and even discover new artists that fit the Coachella vibe. Whether you want to dance, chill, or sing your heart out, Amazon Music has all the genres and tracks you need to make your Coachella themed party an unforgettable musical journey.
With the right mix of music and Amazon Music at your fingertips, your Coachella themed party will be an immersive experience that transports your guests to the iconic festival grounds. So get ready to dance, sing, and celebrate under the stars with the ultimate Coachella playlist, all thanks to Amazon Music.
Check out the best deals for Amazon Music by clicking here.
How Do you Dress for a Coachella Party?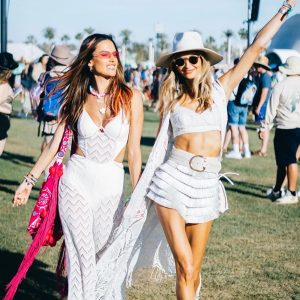 Dressing up for a Coachella themed party is all about embracing the bohemian and carefree spirit that the festival represents. From flowy dresses to vintage-inspired accessories, there are endless ways to create the perfect Coachella look that's both stylish and comfortable. Whether you want to channel your inner flower child or unleash your inner rockstar, here are 8 easy Coachella themed outfits to inspire your party attire:
Boho Chic: Opt for a flowy maxi dress with floral prints, paired with a wide-brimmed floppy hat and fringed ankle boots. Complete the look with some statement boho jewelry and a cute crossbody bag to carry your essentials. Check out this Boho Chic outfit by clicking here.
Desert Vibes: Embrace the desert vibes with a cropped graphic tee, high-waisted denim shorts, and cowboy boots. Add a bandana tied around your neck and some retro sunglasses for a touch of vintage cool. Check out this desert vibes outfit by clicking here.
Rock 'n' Roll Glam: Go edgy with a leather jacket, a graphic band tee, and distressed black skinny jeans. Rock a pair of studded ankle boots and accessorize with chunky silver jewelry for a bold and rebellious look. Check out this rock 'n' roll glam outfit by clicking here.
Flower Power: Embody the spirit of Coachella with a flowy floral romper, strappy sandals, and a flower crown adorning your head. Don't forget to add some dainty anklets for an extra touch of whimsy. Check out this flower power outfit by clicking here.
Boho Babe: Slip into a crochet crop top, high-waisted denim skirt, and gladiator sandals for an effortlessly chic bohemian look. Layer on some beaded bracelets and a fringe bag for a boho babe vibe. Check out this boho babe by clicking here.
Vintage Vibes: Embrace retro charm with a vintage-inspired sundress, cat-eye sunglasses, and platform sandals. Add a wide belt to cinch your waist and a woven straw hat for a touch of nostalgia. Check out this vintage vibes outfit by clicking here.
Hippie Dreams: Go full-on hippie with bell-bottom pants, a tie-dye tee, and round sunglasses. Top off the look with a headscarf and some peace sign accessories for a groovy style. Check out this hippie outfit by clicking here.
Coachella Casual: Keep it simple and casual with a breezy off-the-shoulder top, denim cutoffs, and comfy sneakers. Add a statement necklace and a boho-inspired backpack to elevate the look. Check out this casual Coachella outfit by clicking here.
Remember, the key to dressing for a Coachella themed party is to have fun with your outfit and let your creativity shine. Mix and match different pieces, experiment with colors and patterns, and don't be afraid to accessorize with bold and unique pieces. Whether you're going for a boho chic look or a rock 'n' roll vibe, these 8 easy Coachella themed outfits will help you stand out and embrace the festival spirit at your party.
What Happens at Coachella?
Coachella, one of the world's most iconic music festivals, is a vibrant and exhilarating celebration of music, art, and culture. Held annually in Indio, California, this two-weekend event brings together music enthusiasts, artists, and celebrities from all over the globe. From the eclectic lineup of musicians to the awe-inspiring art installations, Coachella offers an unforgettable experience that goes beyond just music.
Musical Extravaganza: At Coachella, attendees can expect a diverse lineup of musical acts across various genres, including rock, pop, hip-hop, electronic dance music (EDM), and indie. With multiple stages hosting performances simultaneously, festival-goers have the opportunity to curate their own musical journey, discovering new artists while enjoying sets from some of the biggest names in the industry.
Art Installations: Beyond the stages, Coachella is known for its breathtaking art installations that transform the festival grounds into a playground of creativity. From larger-than-life sculptures to interactive art pieces, the festival's art installations add an element of wonder and inspiration to the experience.
Celebrity Sightings: Coachella is a hotspot for celebrity sightings, with numerous A-list stars attending the festival each year. From actors and musicians to social media influencers, the festival attracts a wide array of notable figures, making it a prime opportunity for fans to catch a glimpse of their favorite celebrities.
Fashion and Style: Coachella has become a fashion mecca, inspiring trends and setting the stage for unique style statements. Festival-goers often embrace bohemian, hippie, and retro-inspired fashion, with flowing dresses, fringe, floral prints, and statement accessories being popular choices.
Artistic Expression: Coachella encourages artistic expression beyond music and art installations. Attendees often engage in body painting, wear elaborate costumes, and express their creativity through unique self-expression.
Food and Culinary Delights: The festival grounds host a wide array of food vendors, offering a diverse selection of culinary delights to satisfy every palate. From gourmet food trucks to international cuisine, festival-goers can indulge in a gastronomic journey while enjoying the performances.
Community and Connections: Coachella fosters a sense of community and camaraderie among attendees, creating an environment where strangers become friends and shared experiences create lasting memories.
Festival Activities: In addition to music and art, Coachella offers various activities and attractions to keep attendees entertained throughout the day. From yoga classes and interactive workshops to carnival rides and pop-up shops, there's always something new to explore.
Coachella is not just a music festival; it's an immersive and transformative experience that celebrates creativity, diversity, and the power of music to bring people together. It's a place where memories are made, friendships are forged, and the spirit of freedom and self-expression thrives.
Why is Coachella so Popular?
Coachella's unparalleled popularity can be attributed to several key factors that have made it a global phenomenon and an annual pilgrimage for music and culture enthusiasts worldwide. Here are some of the reasons why Coachella stands out as one of the most sought-after festivals:
Stellar Lineup: One of the main draws of Coachella is its consistently impressive lineup of musicians and artists. The festival organizers curate a diverse and star-studded roster, featuring top-tier headliners alongside emerging talents and cult favorites. The promise of seeing a wide range of musical genres and performances from beloved artists is a major attraction for festival-goers.
Iconic Location: Coachella's picturesque setting in the Colorado Desert near Indio, California, adds to its allure. The expansive and scenic Empire Polo Club provides a unique backdrop for the festival, offering stunning vistas and an otherworldly ambiance that enhances the overall experience.
Immersive Art Installations: Beyond the music, Coachella is renowned for its breathtaking art installations. Every year, artists from around the world create captivating and interactive art pieces that add a touch of wonder and creativity to the festival grounds. These art installations provide ample opportunities for attendees to explore and connect with art in a dynamic and immersive way.
A-List Celebrity Sightings: Coachella has become a magnet for celebrities and influencers, drawing in an array of A-list attendees. The allure of rubbing shoulders with stars and witnessing surprise celebrity performances adds an element of excitement and exclusivity to the festival.
Fashion and Style Showcase: Coachella has become synonymous with its distinctive and influential fashion trends. Festival-goers embrace the opportunity to showcase their creativity and unique style, with fashion becoming an essential part of the Coachella experience. The festival's fashion-forward atmosphere has attracted attention from designers, brands, and fashion influencers, making it a global stage for style inspiration.
Social Media and FOMO: The rise of social media has played a significant role in Coachella's popularity. Attendees and artists alike share their festival experiences on platforms like Instagram, creating a sense of FOMO (fear of missing out) for those who aren't there. This amplification through social media has helped Coachella become a cultural phenomenon that extends far beyond the festival grounds.
Memorable Experiences: Coachella offers a multi-sensory experience, blending music, art, food, and fashion into a seamless celebration of culture and creativity. The festival's ability to curate unforgettable moments and create lasting memories for attendees has contributed to its enduring popularity.
Community and Inclusivity: Coachella's inclusive and diverse atmosphere fosters a sense of community among festival-goers. The festival celebrates individuality and provides a space where people from all walks of life can come together to enjoy music, art, and each other's company.
Coachella's popularity can be attributed to its stellar lineup, stunning location, immersive art installations, celebrity appeal, influential fashion culture, social media buzz, memorable experiences, and its welcoming and inclusive community. These elements have combined to make Coachella a cultural phenomenon and a must-attend event for music and arts enthusiasts around the globe.
Take a look at more Coachella themed party guides and articles here.