There's nothing quite like the carefree vibes of a beach party. The sound of crashing waves, the warmth of the sun on your skin, and the laughter of friends and family create an unforgettable experience. Whether it's a summer celebration, a birthday bash, or just a reason to gather by the shore, throwing a beach party is the perfect way to soak up the joy of the coastal lifestyle. Welcome to our guide on how to throw a Beach Party.
Check out this truly awesome beach party supplies set by clicking here.
How to Throw a Beach Party – The Ultimate Guide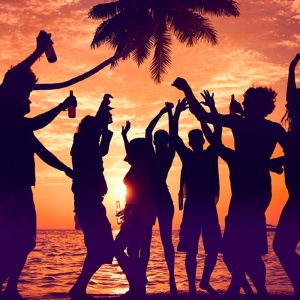 But planning a beach party that truly stands out requires some preparation and creativity. From setting up the perfect beach spot to organizing exciting activities, the details can make all the difference. To help you craft an epic beach bash that will leave your guests talking for years to come, we've put together the ultimate guide to throwing a beach party.
In this comprehensive guide, we'll cover everything you need to know, from choosing the ideal beach location to curating a delectable menu of beach-friendly treats. We'll dive into the art of beach decor, ensuring your setup radiates beachy bliss while complementing the stunning natural surroundings. You'll discover how to keep the party going with a lineup of exciting beach games and activities that cater to guests of all ages.
But the beach party experience isn't just about the aesthetics and activities—it's about creating unforgettable memories with your favorite people. That's why we'll delve into tips for organizing a smooth and stress-free beach party, from managing logistics to preparing for unexpected weather conditions.
As you embark on this beach party planning journey, remember that it's all about embracing the spirit of relaxation and revelry that the beach offers. Whether you're hosting a small, intimate gathering or a larger-than-life beach bonanza, our guide will equip you with the knowledge and inspiration to turn your vision into a reality.
So, gather your sun hats and sunscreen, and get ready to immerse yourself in the ultimate beach party experience. Prepare to bask in the sun, dance in the sand, and create cherished moments with your loved ones. With our expert tips and tricks, your beach party will be a smashing success, leaving everyone with sun-kissed smiles and memories to cherish forever. Let's dive in and make waves with the most unforgettable beach party of the season! Now let us get started on how to throw a beach party.
Check out this truly awesome beach party supplies set by clicking here.
What is a Beach Party?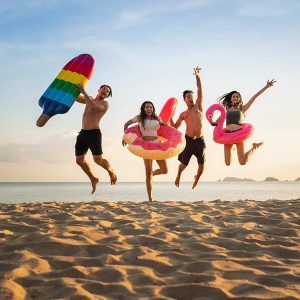 A beach party is a fun-filled and laid-back gathering that takes place on the sandy shores of a beach. It's a celebration of summer, sun, and the carefree spirit of coastal living. Whether it's a casual get-together with friends or a festive event with a larger group, beach parties offer the perfect opportunity to enjoy the natural beauty of the ocean while creating lasting memories with loved ones.
At a beach party, the sound of crashing waves serves as the backdrop to laughter, music, and the clinking of cold beverages. It's a time to kick off your shoes, feel the warm sand between your toes, and savor the joy of living in the moment. From building sandcastles to playing beach games and indulging in delicious beach snacks, a beach party encapsulates the essence of summer fun.
Beach Party Decorations
Setting the right ambiance is essential to make your beach party an unforgettable experience. Beach party decorations should effortlessly capture the coastal vibe while creating a relaxed and inviting atmosphere. Here are some creative ideas to spruce up your beach party decor: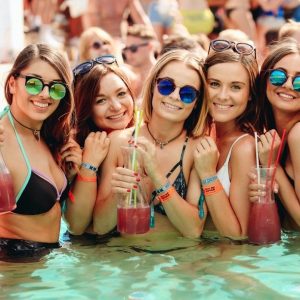 If you throw a beach party it is important to remember how beach party decorations should enhance the natural beauty of the beach without being too elaborate. Keep it simple, cheerful, and in harmony with the coastal setting, and your guests will feel like they've stepped into a beach paradise.
Beach Party Food and Drink
No beach party is complete without a delectable spread of beach-inspired food and refreshing drinks to keep everyone fueled and hydrated. From tropical delights to beach classics, here are some mouthwatering food and drink ideas to tantalize your taste buds:
Fresh Fruit Platter: Prepare a colorful array of fresh fruits like juicy watermelon, sweet pineapple, succulent mangoes, and tangy strawberries. It's the perfect healthy and refreshing snack for a sunny day at the beach.
Beach Burgers and Hot Dogs: Fire up the grill and serve up classic beach fare like juicy burgers and sizzling hot dogs. Let your guests customize their burgers with an assortment of toppings and condiments.
Tropical Smoothies: Blend up tropical fruit smoothies with combinations like mango and coconut, pineapple and banana, or mixed berry bliss. Add a splash of coconut water or pineapple juice for an extra burst of flavor.
Fresh Seafood: If you have access to a grill, consider grilling up some fresh seafood like shrimp skewers, fish fillets, or even whole grilled fish. It's a beach party delicacy that seafood lovers will adore.
Beachy Snack Mix: Create a beach-themed snack mix with ingredients like pretzels, popcorn, goldfish crackers, and dried tropical fruits. Add some sea salt for a savory touch.
Cool Ice Cream Treats: Set up an ice cream bar with various flavors and an assortment of toppings like sprinkles, chocolate chips, and whipped cream. It's a sweet way to beat the heat.
Fresh Lemonade: Keep your guests refreshed with pitchers of ice-cold lemonade. Offer different variations like traditional lemonade, strawberry lemonade, or mint-infused lemonade.
Check out this selection of tableware that would be awesome for serving food if you throw a beach party by clicking here.
Beach Party Games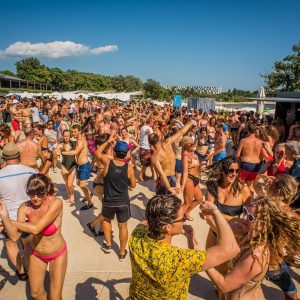 Keep the party spirit high with entertaining beach games that will have everyone laughing and bonding. Here are some classic and fun beach party games to consider:
These beach party games will create unforgettable moments and add an extra dose of excitement to your gathering. Remember to keep the games safe, inclusive, and suitable for all ages to ensure everyone has a blast.
Beach Party Music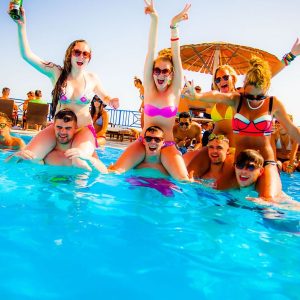 The right music sets the tone for a fantastic beach party, creating a vibrant and lively atmosphere that will have everyone dancing and grooving in the sand. When curating your beach party playlist, consider the following tips to ensure a memorable musical experience:
Beach Vibes Playlist: Create a playlist that captures the essence of the beach and the carefree vibes of summer. Include upbeat and tropical tunes with a mix of reggae, calypso, pop, and beach-themed songs. Classics like "Kokomo" by The Beach Boys, "Jammin'" by Bob Marley, and "Under the Boardwalk" by The Drifters are sure to get everyone in the mood.
DJ or Live Music: If you want to take your beach party to the next level, consider hiring a DJ or a live band to provide the entertainment. A skilled DJ can read the crowd and curate a playlist that keeps the energy high and the dance floor packed. On the other hand, a live band can add a unique and dynamic element to the party, playing popular hits and engaging the audience.
Interactive Music Requests: Allow your guests to make song requests, either through a designated playlist app or by simply encouraging them to share their favorite tunes. This interactive element not only ensures that everyone hears music they love but also creates a sense of inclusivity and participation.
Wireless Speakers: Opt for high-quality wireless speakers that are water-resistant and portable, allowing you to place them strategically around the party area. This way, the music can reach everyone, whether they're lounging on beach towels or splashing in the waves.
Sunset Serenade: As the day transitions to evening, slow down the tempo and create a relaxing atmosphere with some mellow tunes. Soft acoustic melodies or soothing instrumental tracks can accompany the breathtaking sunset, providing a serene ambiance for your guests.
Dancing Under the Stars: Embrace the enchanting night by having a dance session under the stars. String up fairy lights or lanterns to add a magical touch to the dance floor, and play dance-worthy hits that keep the energy high.
Safety and Consideration: When playing music at the beach, be mindful of the local noise regulations and the comfort of other beachgoers. Keep the volume at a reasonable level so that your party remains enjoyable without disturbing others.
Remember that music is a powerful tool to create lasting memories and emotions. A well-curated playlist can elevate the beach party experience, turning it into an unforgettable celebration of summer, friendship, and the beauty of the sea.
We would highly recommend Amazon Music for all of you beach party music. Amazon Music, quite literally, puts millions upon millions of songs at your finger tips. With Amazon Music you pretty much have every song you could ever think of no more than a click away.
You can check out the best deals for Amazon Music by clicking here.
Beach Party Favors
If you throw a beach party you should be sending your guests home with thoughtful and fun beach party favors is a wonderful way to express your gratitude for their presence and ensure that the memories of the party linger long after the sun has set. Consider these creative and beach-themed favor ideas:
What to Wear to a Beach Party
When you throw a beach party it is important to consider what you wear. It is all about embracing comfort, style, and practicality. Whether you're hosting or attending a beach gathering, here are some tips for the perfect beach party outfit:
By following these tips, you'll be beach-ready and looking fabulous for the ultimate beach party experience. Remember, when you throw a beach party, to prioritize comfort and sun protection, so you can fully enjoy the sun, sand, and sea.
Check out this truly awesome beach party supplies set by clicking here.
Take a look at more beach party ideas here.