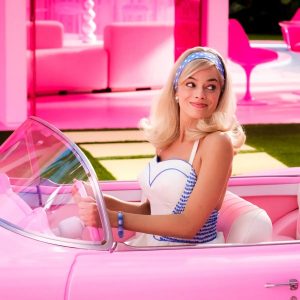 Are you ready to embark on a whimsical journey into the world of pink, glitz, and glamour? Look no further, as we present to you the ultimate guide on how to throw a Barbie themed party that will leave your guests enchanted and memories cherished for years to come. This delightful theme has been a perennial favorite among kids and adults alike, making it the perfect choice for a joyous celebration.
Check out this Barbie themed party supplies and decorations set by clicking here.
How to Throw a Barbie Themed Party – The Ultimate Guide
If you want to throw a Barbie themed party it is not just an enchanting option for little ones who adore the iconic fashion doll, but it also proves to be a surprisingly popular choice for bachelorette parties, embracing the inner child of every guest with a touch of elegance and fun. With the fusion of childhood nostalgia and adult sophistication, this extraordinary theme promises to create a magical ambiance that transcends age barriers and leaves everyone feeling like a star.
So, if you're eager to curate an event that exudes charm, sparkle, and a whole lot of pink, join us as we delve into the details of organizing an unforgettable Barbie themed party. From enchanting decorations and delectable treats to lively games and activities, we've got you covered with tips and ideas that will ensure your celebration is the talk of the town. Get ready to embrace the spirit of Barbie and unlock the door to an extraordinary celebration!
What Is a Barbie Themed Party
When you throw a Barbie themed party it is a vibrant and glamorous celebration inspired by the iconic Barbie doll, a symbol of fashion, style, and endless possibilities. The essence of this party lies in capturing the spirit of Barbie's world, where imagination knows no bounds and dreams take flight. From the moment guests step into the party venue, they are transported to a world of pink hues, shimmering lights, and fabulous fashion.
The decor of a Barbie themed party typically revolves around the signature pink color palette, adorned with touches of glitter and sparkle. Balloons, streamers, and table settings contribute to the magical atmosphere, while life-size cutouts of Barbie and her friends add an element of excitement and playfulness.
One of the highlights of a Barbie themed party is undoubtedly the opportunity for guests to dress up like their favorite Barbie character or fashionista. From classic Barbie outfits to extravagant costumes, the dress code encourages creativity and self-expression, adding an extra layer of fun to the celebration.
Whether it's a birthday bash for a little Barbie enthusiast or a chic bachelorette party with a touch of nostalgia, the charm of a Barbie themed party lies in its versatility and ability to bring people together in joyous celebration. So, get ready to embrace the glitz, glam, and magic of Barbie's world, as you embark on a memorable journey through a Barbie themed extravaganza!
Let us dive in and look at what you need to throw a Barbie themed party.
Check out this Barbie themed party supplies and decorations set by clicking here.
Barbie Themed Party Decorations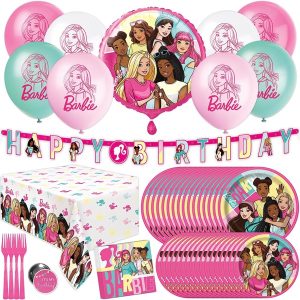 Creating a captivating atmosphere is key to a successful Barbie themed party, and the right decorations can set the stage for a truly enchanting experience. Embrace the world of pink and sparkle as we explore some fabulous decorations that will transform your party venue into a Barbie wonderland.
Barbie Backdrop: Set the scene with a stunning Barbie-themed backdrop. You can choose a backdrop featuring the iconic Barbie logo or opt for a large poster showcasing Barbie and her friends in all their glamour. This backdrop will serve as a picture-perfect spot for guests to capture delightful memories. Take a look at this awesome Barbie backdrop that is perfect for your Barbie themed party by clicking here.
Pink Glitter Curtain: Add a touch of glitz to your party with a pink glitter curtain. This shimmering entrance will make guests feel like they are stepping into a magical fashion show. As they walk through the glittering curtain, the excitement and anticipation will be palpable. Check out this pink glitter curtain by clicking here.
Barbie Balloons: Balloons are an essential element of any party, and a Barbie themed celebration is no exception. Incorporate an array of Barbie-themed balloons in various shades of pink and featuring images of the beloved doll. Foil balloons shaped like Barbie's silhouette or Barbie's iconic accessories will add a touch of elegance to the decorations. If you are looking for Barbie balloons check out these options by clicking here.
Barbie Party Wall Banners: A wonderful way to decorate any party venue is to use wall banners. In this case you can use Barbie inspired wall decorations that add color and life to your venue. Check out some great options by clicking here.
Pink Table Settings: Elevate your party tables with pink tablecloths, plates, cups, and napkins. Consider using tableware adorned with Barbie images or logos to tie the theme together seamlessly. Complete the look with elegant glassware and pink utensils for a touch of sophistication. Check out these Barbie themed pink tablecloth options by clicking here. You can also check out these super cute Barbie themed tableware options by clicking here.
Life-Size Barbie Cutouts: Bring Barbie and her friends to life at the party with life-size cardboard cutouts. These life-size replicas of Barbie and her pals will not only make for fantastic photo opportunities but also add a playful element to the decor. Check out this option that makes a great Barbie themed photo prop and decoration by clicking here.
Glittery Centerpieces: Create dazzling centerpieces for the tables using Barbie-themed items like miniature Barbie dolls, miniature shoe replicas, or Barbie fashion accessories arranged on a bed of pink glitter. These eye-catching centerpieces will be a delightful conversation starter. Check out these glittery centerpieces that are perfect for your Barbie themed party by clicking here.
Barbie Doll Display: Showcase a collection of Barbie dolls from different eras as a stunning display. Arrange them on shelves or in glass cases to create a mini Barbie museum that will captivate the guests with nostalgia and admiration for the timeless doll. Take a look at these awesome options for your Barbie Doll display by clicking here.
With these enchanting Barbie themed party decorations, your celebration is sure to become a dream come true for Barbie fans of all ages. Let the magic of pink and glitter take over as you immerse yourself in the world of Barbie and her boundless fashion adventures.
Barbie Themed Party Food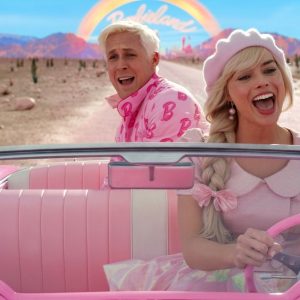 No Barbie themed party is complete without a delectable spread that not only satisfies the taste buds but also complements the glamorous theme. From dainty treats to pink delights, the Barbie themed party food will surely delight guests of all ages. Let's explore some scrumptious and visually appealing food ideas to make your Barbie party a culinary success:
Pink Princess Cupcakes: Indulge in the sweetness of pink princess cupcakes. These delightful treats can be adorned with edible pearls, glitter, or fondant tiaras to add a touch of royalty. Create an assortment of flavors, from classic vanilla to strawberry and raspberry, to cater to every guest's palate.
Fashionista Fruit Skewers: Add a healthy and colorful touch to the party with fashionista fruit skewers. Thread fresh fruits like strawberries, watermelon, grapes, and blueberries onto bamboo sticks. Arrange them artistically to resemble fashionable accessories, making them both nutritious and fashionable.
Barbie Doll Cake: A Barbie doll cake is a show-stopping centerpiece that is sure to wow the guests. This cake is shaped to resemble a Barbie doll, with the cake itself forming the dress. Adorn the cake with edible glitter and fondant embellishments for a picture-perfect finish.
Pink Lemonade: Quench everyone's thirst with a refreshing and vibrant pink lemonade. Infuse it with strawberries or raspberries to give it a lovely pink hue. Serve the lemonade in elegant glasses garnished with lemon slices and a pink sugar rim for an extra special touch. Check out these Barbie themed cups by clicking here.
Glamorous Sandwiches: Prepare an assortment of sandwiches with fillings to suit every guest's taste. Use cookie cutters to shape the sandwiches into stars, hearts, or tiaras for a touch of whimsy. Opt for various fillings such as cucumber and cream cheese, ham and cheese, or chicken salad. These pink sandwich serving trays are perfect for your Barbie themed party. Check them out by clicking here.
Barbie's Candy Bar: Create a candy bar that would make Barbie proud. Offer an array of pink and pastel-colored candies, gummies, and chocolates in glass jars and bowls. Add a personalized touch by using custom Barbie-themed labels for the candy containers.
Fashion-forward Cookies: Delight the guests with fashion-forward cookies shaped like high heels, handbags, and dresses. Decorate the cookies with edible glitters and colorful icing to make them look like mini runway accessories.
Pink Popcorn: Serve a bowl of pink popcorn as a tasty and eye-catching snack. Coat freshly popped popcorn with pink candy melts or strawberry-flavored powdered sugar for a delightful treat. If you do serve popcorn check out this popcorn bowl which is perfect for a Barbie themd party by clicking here.
Remember to take guests' dietary preferences and allergies into account while planning the food menu. With these Barbie themed party food ideas, your guests will not only be feasting on scrumptious delicacies but also dining in style fit for Barbie herself!
Barbie Themed Party Games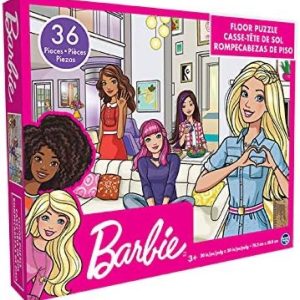 Engaging party games are a fantastic way to keep the celebration filled with laughter, excitement, and memorable moments when you throw a Barbie themed party. These delightful games will immerse guests in Barbie's world, where they can embrace their inner fashionistas and have a blast. Here are some fun and fabulous Barbie themed party games to entertain guests of all ages:
Barbie Dress-up Relay: Divide the guests into teams and set up a dress-up relay race. Each team will have a box filled with Barbie-inspired clothing and accessories such as tiaras, boas, sunglasses, and high heels. One player from each team races to the dress-up station, puts on the outfit, and then races back to tag the next teammate. The team that finishes the relay first wins! Take a look at some perfect Barbie costume and clothing ideas by clicking here.
Barbie Fashion Show: Host a glamorous Barbie fashion show where guests can show off their creative ensembles. Provide a selection of dress-up items, accessories, and even a runway for the models to strut their stuff. The rest of the guests can act as the audience and cheer for their favorite fashionistas. Take a look at some perfect Barbie costume and clothing ideas by clicking here.
Pin the Bow on Barbie: A playful twist on the classic "Pin the Tail on the Donkey" game. Blindfold each guest, hand them a bow with double-sided tape, and have them try to place the bow on Barbie's hair. The guest who gets the bow closest to the correct spot wins a prize.
Barbie Bingo: Create custom Bingo cards featuring images of Barbie's accessories, outfits, and friends. As the host calls out the items, guests mark off the corresponding pictures on their cards. The first person to get a complete row of matches shouts "Barbie Bingo!" and wins a prize. Check the best price by clicking here.
Barbie Memory Game: Arrange several Barbie-themed items on a tray and give guests a few seconds to memorize them. Then, cover the items and ask the guests to write down or verbally recall as many items as they can remember. The person with the most correct items remembered wins the game. Check out the best price by clicking here.
Barbie Charades: Write down various Barbie-related words or phrases on small cards, and have guests take turns acting them out without using any words. The other guests must guess what the charades represent. This game will have everyone laughing and showcasing their acting skills. Check the best price by clicking here.
Fashion Designer Challenge: Let the guests unleash their creativity by hosting a fashion designer challenge. Provide them with plain white t-shirts, fabric markers, and other craft supplies. Guests can design their own Barbie-inspired t-shirts, and the most stylish creations win a prize.
Ensure that the games are age-appropriate and that everyone feels included and having fun. Offer small prizes or party favors for the winners, creating an atmosphere of excitement and friendly competition. With these Barbie themed party games, your celebration will be brimming with joy and unforgettable moments that capture the essence of Barbie's world.
Barbie Themed Party Favors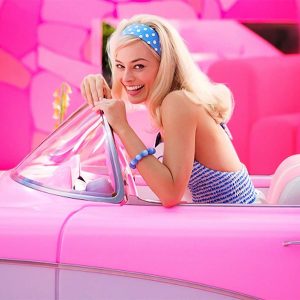 Sending guests home with delightful party favors is a wonderful way to extend the magic of the Barbie themed celebration. Prepare a selection of fabulous Barbie-inspired goodies that will leave each guest feeling like they've just received a special gift from Barbie herself. Here are some enchanting party favor ideas that will make your Barbie party unforgettable:
Assemble these party favors in stylish goody bags or elegant boxes adorned with Barbie-themed ribbons and stickers. You can even add a personalized thank-you note to express your gratitude for joining in the celebration. With these Barbie themed party favors, your guests will take home a piece of the magical world they experienced at the party, creating lasting memories of a truly enchanting event.
What to Wear at a Barbie Themed Party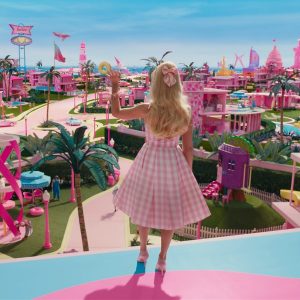 Dressing the part is a crucial aspect of immersing oneself in the enchanting world of a Barbie and important when you throw a Barbie themed party. Whether you're a little fashionista or a chic adult attendee, the attire you choose can add to the fun and create an unforgettable party experience.
When it comes to Barbie themed costumes there is the likes of Weird Barbie, President Barbie, Rollerblade Barbie, Lawyer Barbie, Diplomat Barbie, Dance Party Barbie, Journalist Barbie, Physicist Barbie, Writer Barbie, Doctor Barbie, Supreme Court Justice Judge Barbie, Mermaid Barbie, Cowgirl Barbie and Dream House Barbie to name just a few. There is also the option of the Mattel CEO or Allan from Barbie and, of course, Ken.
Here are some fabulous outfit ideas for guests of all ages to shine like true Barbie stars:
For Kids:
Barbie Princess Dress: Let the little ones channel their inner princess with a Barbie-inspired ball gown or princess dress. Look for dresses in shades of pink or pastel colors, adorned with sequins, glitter, or Barbie character motifs. Check best price by clicking here.
Fashionable Tutus: Tutus are a delightful option for young guests who want to showcase their fashionable side. Opt for tutus in vibrant shades, reminiscent of Barbie's colorful wardrobe, and pair them with matching tops or leotards.
Barbie T-Shirts: Simple yet stylish, Barbie-themed t-shirts are a comfortable and trendy choice for kids. Look for shirts featuring Barbie's iconic logo, catchphrases, or images of the doll herself. Check best price by clicking here.
Glittery Accessories: Accessorize the outfits with glittery headbands, tiaras, and sparkly shoes. These glamorous touches will make the little ones feel like they've stepped right into Barbie's world. Check best price by clicking here.
For Adults:
Barbie Glam Eveningwear: Embrace the glitz and glamour of Barbie with an elegant evening dress. Choose a dress in a dazzling shade of pink or any other vibrant color that reflects Barbie's iconic style.
Chic Barbie-Inspired Outfits: Create a chic and contemporary Barbie-inspired look with fashionable separates. Opt for a pink blouse, skirt, or pants paired with stylish accessories to showcase your Barbie spirit.
Barbie Fashionista Attire: Show off your love for fashion by wearing an outfit inspired by one of Barbie's iconic looks. Whether it's her classic 1959 black and white swimsuit or her edgy pink motorcycle jacket, this fashion-forward choice will surely turn heads.
Barbie Accessories: Complete your look with Barbie-inspired accessories like statement necklaces, oversized sunglasses, and elegant high heels. These accessories will add a touch of Barbie's timeless charm to your ensemble. Check best price by clicking here.
Remember, when you throw a Barbie themed party the key is to embrace the joy of fashion and self-expression. Whether you choose a glamorous gown, a stylish tutu, or a chic ensemble, your attire will play a significant role in creating a magical and unforgettable experience at the Barbie themed celebration. Let your inner fashionista shine and have a fabulous time celebrating in style!
Check out this Barbie themed party supplies and decorations set by clicking here.
Take a look at more Barbie party things here.