Step into a time machine and get ready to boogie down! If you're looking to throw the grooviest, most far-out party of the century, look no further. Welcome to the ultimate guide on how to throw a 70s theme party that will have your guests saying, "Stayin' Alive" all night long!
Check out this range of 70s Theme Party decorations and supplies sets by clicking here.
How to Throw a 70s Theme Party – The Ultimate Guide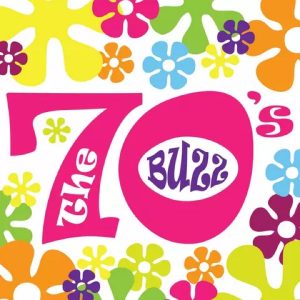 The 1970s were an era of disco balls, platform shoes, and funky beats that swept the world off its feet. From the flashy fashion to the iconic music, this decade is a treasure trove of inspiration for an unforgettable celebration. So put on your bell-bottoms and prepare to take a nostalgia-filled journey back in time.
In this guide, we'll show you how to transform your party space into a psychedelic wonderland, curate the perfect playlist that will have everyone shaking their groove thing, and even whip up some finger-licking good retro recipes that will transport taste buds back to the good ol' days.
So, get your lava lamps ready and let's dive into the time capsule together. Your 70s theme party is about to become a reality, and it's going to be nothing short of a mind-blowing, disco-tastic extravaganza. Are you ready to get the party started? Let's boogie on down and find out!
Check out this range of 70s Theme Party decorations and supplies sets by clicking here.
What is a 70s Theme Party
Before we hit the dance floor, let's take a moment to understand what exactly a 70s theme party is all about. A 70s theme party is a celebration that pays homage to the iconic and vibrant decade of the 1970s. It's a time to embrace the funky and flashy style, the disco fever, and the groovy spirit that defined an era. From bell-bottoms and polyester shirts to glittering disco balls, this party is all about reliving the nostalgic charm of the 70s in all its glory.
A 70s theme party makes a truly awesome idea for a birthday party. It can also be easily used for pretty much any occasion including the likes of a Christmas party or other occasion.
70s Theme Party Decorations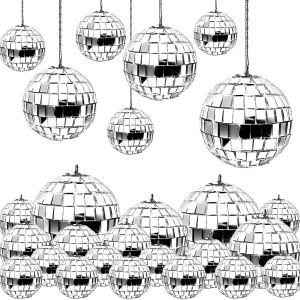 To truly capture the groovy essence of the 70s, deck out your party space with a mix of retro and psychedelic decorations. Here are some must-have items to create the ultimate 70s ambiance:
With these 70s theme party decorations, you'll transport your guests back to the era of peace, love, and disco, guaranteeing a night filled with memories that will last a lifetime. So, get ready to groove and let the good times roll!
70s Theme Party Food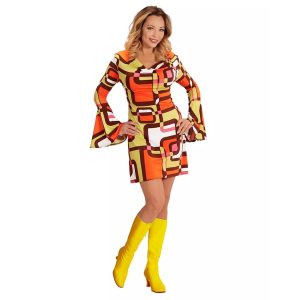 Indulge your guests' taste buds in a nostalgic journey with a delectable spread of 70s-inspired dishes. From retro classics to quirky delights, here are some must-have 70s theme party food items to satisfy their appetites:
Deviled Eggs: These retro hors d'oeuvres are a staple of 70s parties. Whip up some deviled eggs with a touch of paprika for an elegant and savory treat.
Cheese Fondue: Set up a fondue station with creamy melted cheese and provide an assortment of bread cubes, vegetables, and even fruit for dipping. It's interactive and utterly delightful!
Harvey Wallbanger Cocktails: Mix up this iconic 70s cocktail made with vodka, Galliano liqueur, and orange juice. Garnish with an orange slice and a maraschino cherry for a visually appealing drink.
Ambrosia Salad: A sweet and tangy fruit salad featuring tropical fruits, mini marshmallows, coconut flakes, and whipped cream. It's a light and refreshing dessert option.
Pineapple Upside-Down Cake: Serve this classic dessert that will transport your guests back to grandma's kitchen. Caramelized pineapples and cherries on a moist cake are sure to be a hit.
Swedish Meatballs: These flavorful meatballs in a creamy gravy are a hearty and comforting choice for the main course. Place toothpicks nearby for easy serving.
Jello Mold: Bring back the wobbly fun of the 70s with a colorful Jello mold. Use various flavors and add in chunks of fruits or whipped cream for extra flair.
Shrimp Cocktail: Elegant yet easy to prepare, serve shrimp cocktail in individual cups with tangy cocktail sauce for a touch of sophistication.
Stuffed Mushrooms: Present your guests with savory stuffed mushrooms filled with cream cheese, breadcrumbs, and herbs. They're a delectable finger food.
Classic Pigs in a Blanket: Mini sausages wrapped in buttery crescent dough make for a nostalgic and crowd-pleasing appetizer.
Fruit Punch: Whip up a fruity and refreshing punch with a mix of tropical juices and soda. For an extra kick, add some rum or vodka for the adults.
Cheese and Pineapple Hedgehog: As a fun and quirky centerpiece, arrange cubes of cheese and pineapple on toothpicks to create a cute hedgehog shape.
Remember to cater to various dietary preferences and restrictions, and consider labeling the dishes to inform guests of any allergens. With these 70s theme party food delights, your guests will be savoring the taste of the past while enjoying the groovy ambiance of your throwback celebration!
Check out this range of 70s theme party tableware by clicking here.
70s Theme Party Games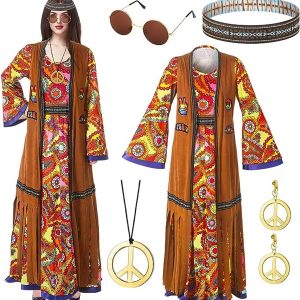 Get the good times rolling with a selection of entertaining and nostalgic games that will transport your guests straight back to the 70s. These groovy activities will keep everyone engaged and laughing all night long:
Disco Dance-Off: Set up a dance floor and have a disco dance-off competition. Play classic 70s disco hits and let guests show off their best moves. Award prizes for the most impressive dancers.
Trivia Time Warp: Create a trivia quiz featuring questions about 70s music, movies, fashion, and pop culture. Challenge your guests' knowledge of the era and award groovy prizes to the trivia champions. Buy Here
Hula Hoop Contest: Bring out the hula hoops and let the friendly competition begin. See who can hula hoop the longest or come up with the most creative moves while grooving to 70s tunes. Buy Here
Name That Tune: Prepare a playlist of iconic songs from the 70s and play short snippets for guests to guess the song title and artist. It's a fun way to test their musical memory. Buy Here
Far-Out Costume Contest: Encourage guests to come dressed in their best 70s attire and host a costume contest. Let everyone vote for their favorite outfits, and award prizes for the most authentic, creative, and outrageous looks. Buy Here
Simon Says – 70s Edition: Put a retro twist on the classic Simon Says game by incorporating 70s-inspired actions and dance moves. Participants must follow the instructions of "Simon" to stay in the game.
Limbo: Set up a limbo stick and challenge guests to limbo their way under it while moving to some funky tunes. Lower the stick after each round to increase the difficulty. Buy Here
DIY Tie-Dye Station: Get crafty and set up a tie-dye station with plain white shirts, bandanas, or tote bags. Let guests unleash their creativity and take home their personalized tie-dye creations. Buy Here
Groovy Photo Booth: Create a photo booth area with props like afro wigs, oversized sunglasses, and peace sign necklaces. Guests can strike a pose and capture their 70s memories in style. Buy Here
Twister: Bring out the classic Twister game for some laughs and tangled limbs. It's a perfect way to get everyone mingling and enjoying the retro vibe. Buy Here
Name the Celebrity: Display pictures of famous celebrities from the 70s and challenge guests to name them. Provide hints if needed, and see who can correctly identify the most stars.
These 70s theme party games will not only entertain your guests but also immerse them in the spirit of the decade. With laughter, dance-offs, and friendly competition, your party is sure to be an unforgettable blast from the past!
70s Theme Party Music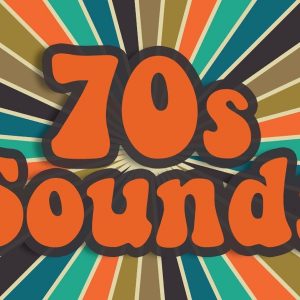 No 70s theme party is complete without a killer playlist that transports your guests straight back to the disco era. Fill the air with the infectious beats and timeless tunes that defined the decade. Here are some essential tracks to get your party grooving:
"Stayin' Alive" – Bee Gees: This disco anthem is an absolute must for any 70s party. Its infectious rhythm will have everyone hitting the dance floor.
"Dancing Queen" – ABBA: A classic from the Swedish supergroup, guaranteed to get everyone singing along and moving to the music.
"Play That Funky Music" – Wild Cherry: The funky guitar riff and catchy chorus will have your guests boogieing the night away.
"Boogie Wonderland" – Earth, Wind & Fire: The name says it all – a song that will transport your guests to a boogie wonderland on the dance floor.
"I Will Survive" – Gloria Gaynor: An empowering disco anthem that's perfect for a sing-along moment.
"Don't Stop 'Til You Get Enough" – Michael Jackson: The King of Pop's hit will have everyone showing off their best MJ dance moves.
"Le Freak" – Chic: A funky and danceable tune that will keep the party vibe alive.
"We Are Family" – Sister Sledge: A feel-good anthem celebrating unity and togetherness that will bring your guests closer.
"YMCA" – Village People: Gather your guests and spell out those iconic letters as you dance along to this 70s classic.
"Superstition" – Stevie Wonder: A timeless hit that will have everyone grooving to the funky bassline.
Remember to mix in some slow jams and love ballads for moments when your guests want to catch their breath or slow dance. With these iconic 70s tracks, you'll have a party playlist that will keep the disco fever alive all night long!
The best options for an infinite supply of music from the 1970's is to use Amazon Music. Amazon Music quite literally puts pretty much any song from the 1970s at your fingertips.
You can check out the best deals for Amazon Music by clicking here.
70s Theme Party Favors
Send your guests home with a touch of 70s nostalgia and appreciation for attending your fantastic throwback bash. Here are some far-out 70s theme party favors that will leave a lasting impression:
Disco Ball Keychains: Give your guests a small disco ball keychain as a memento they can carry with them, reminding them of the dance-filled night. Buy Here
Retro Sunglasses: Hand out colorful and oversized sunglasses reminiscent of the fashion trends of the 70s. Buy Here
Peace Sign Jewelry: Bracelets, necklaces, or earrings featuring the peace sign symbolize the spirit of the era and make for thoughtful party favors. Buy Here
Vinyl Record Coasters: Turn old vinyl records into unique coasters that your guests can use at home, adding a touch of vintage flair to their coffee table. Buy Here
Tie-Dye Bandanas: Provide guests with tie-dye bandanas they can wear or use as versatile accessories. Buy Here
70s Candy and Treats: Prepare goodie bags filled with nostalgic candies like Pop Rocks, Tootsie Rolls, and candy cigarettes. Buy Here
Custom Mix CDs: Create personalized mix CDs featuring the iconic hits played at the party. Your guests will cherish the gift and the memories.
Retro Pins and Buttons: Pin badges with 70s-themed designs or famous quotes from the decade can add a touch of nostalgia to any outfit. Buy Here
Funky Mini Lava Lamps: Miniature lava lamps make unique and funky decorations that guests can take home and display. Buy Here
Glow Sticks and Bracelets: Keep the party spirit alive by giving out glow sticks or bracelets that your guests can use on future fun-filled nights. Buy Here
These 70s theme party favors will show your appreciation to your guests while giving them a token to remember the groovy time they had at your far-out celebration!
What to Wear to a 70s Theme Party
Dressing the part is a big part of the fun when it comes to a 70s theme party. Embrace the flamboyant and stylish fashion of the era with these iconic outfit ideas:
Bell-Bottoms and Flared Pants: These wide-legged pants were all the rage in the 70s. Pair them with a flowy blouse or a tight-fitting shirt for an authentic look.
Disco Fever Attire: Shine like a disco ball in a dazzling sequin dress or a sparkly jumpsuit. Don't forget the platform heels to add some extra height to your groovy outfit.
Tie-Dye Everything: From t-shirts to dresses, tie-dye patterns scream 70s fashion. Opt for vibrant colors and psychedelic swirls to capture the essence of the era.
Maxi Dresses and Skirts: Embrace the bohemian vibes with flowy maxi dresses or skirts in floral or paisley prints.
Denim Everything: Denim was a staple in the 70s, so rock a denim jacket, jeans, or even a denim vest for a casual yet stylish look.
Bold Patterns and Prints: Don't be afraid to mix and match bold patterns and prints like stripes, polka dots, and geometric designs.
Fringe and Suede: Channel your inner rockstar with fringe details and suede vests or jackets. It's the perfect touch for a retro rocker look.
Big Collars and Ruffled Shirts: Look for shirts with exaggerated collars or ruffled details for a touch of 70s sophistication.
Wide-Collared Shirts for Men: Men can go for a classic 70s look with wide-collared shirts in vibrant colors or funky patterns.
Afro Wigs and Headbands: If you want to top off your outfit with some fun accessories, go for an Afro wig or a headband to complete your retro ensemble.
Remember to have fun with your outfit and don't be afraid to go all out with the 70s fashion. Whether you're channeling your inner disco diva, a flower child, or a rockstar, the key is to embrace the spirit of the decade and let your unique style shine on the dance floor!
Check out the best range of 1970s fashion by clicking here.
Take a look at more 70s Theme party ideas and article here.