Halloween, the spookiest time of the year, is just around the corner, and if you're anything like us, you've been eagerly counting down the days since July! It's the season of eerie delights, and there's no better way to celebrate than by hosting a Halloween party that will leave your friends and family spellbound. To help you conjure up the perfect haunted house atmosphere, we've curated a list of 14 spine-tingling and scary Halloween decorations that will transform your home into a ghoulishly delightful abode.
14 Scary Halloween Decorations to Haunt Your Party
We will waste no time and dive straight into looking at these 14 scary halloween decorations.
1. Hang Scary Haunted House Scene Setters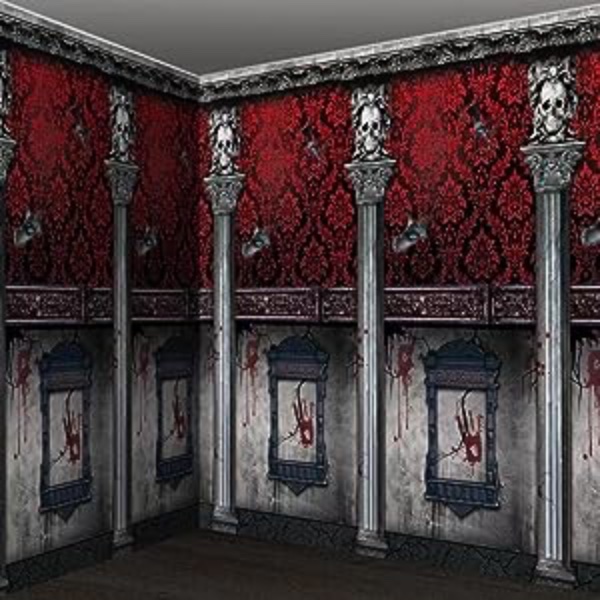 One of the most effective ways to create a truly immersive haunted house experience is by hanging scene setters on your walls. These large, atmospheric decorations cover significant wall space, instantly altering the room's appearance. To achieve the best results, ensure the scenes are made of plastic or paper and strategically positioned for maximum impact, especially under dim lighting. The effort you put into setting them up will be well worth it when your home looks like a decrepit haunted mansion. Consider options like a torn wallpaper scene setter or a stone wall scene setter for a hauntingly realistic touch.
Check out these haunted mansion scene setters by clicking here.
2. Drape Spooky Spider Webs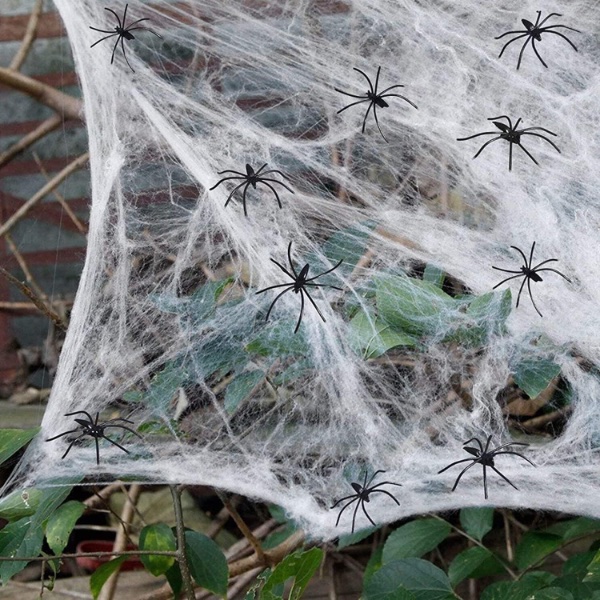 Spider webs are a classic element of Halloween decor that adds a creepy charm to your haunted house. Not only do they age your surroundings, but they also create that eerie sensation of walking through a spider-infested area. Use stretchy spider web material to span across rooms or mirrors. For a more realistic effect, carefully tease the threads apart to prevent clumps. To drape over furniture, light fixtures, or doors, opt for creepy cloth to maintain the haunted ambiance.
Check out these spooky spider webs by clicking here.
3. Add Lots Of Scary Candles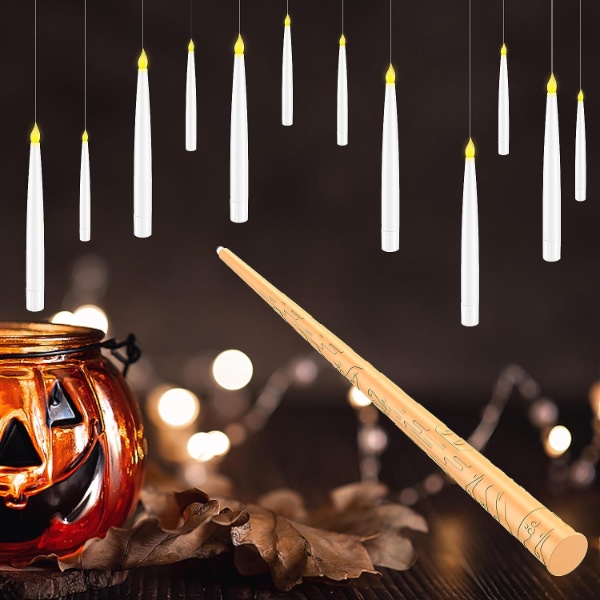 Candles are a must-have for any haunted house, providing an instant boost to the spooky atmosphere. While real candlelight exudes a captivating glow, consider flameless candles for safety and convenience during a party. Place them strategically inside jack o' lanterns, candelabras, or Halloween-themed candle holders. You can even suspend them from the ceiling to create a bewitching effect. Opt for candles with timers or remote controls for easy operation, allowing you to focus on entertaining your guests.
Check out these scary candles by clicking here.
4. Use Cool Lighting for a Spooky Atmosphere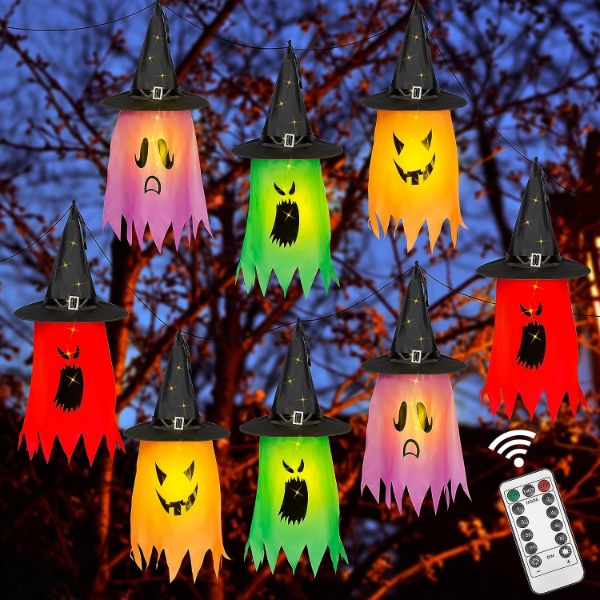 In addition to candles, incorporating creative lighting solutions can dramatically enhance the eerie vibes of your haunted house. Uplights are a fantastic choice to highlight specific areas of your spooky abode. Positioning lights behind creepy cloth or cheesecloth with strategically cut holes conceals the fixture while casting an enchanting glow. Consider using vase uplights for added sparkle, especially when paired with DIY Halloween bottle labels. Replacing standard light bulbs with special Halloween ones, like flicker bulbs, can also transform your chandelier into a timeless, flame-filled spectacle.
Check out these spooky lighting effects by clicking here.
5. Buy Some Animated Halloween Props for Added Scare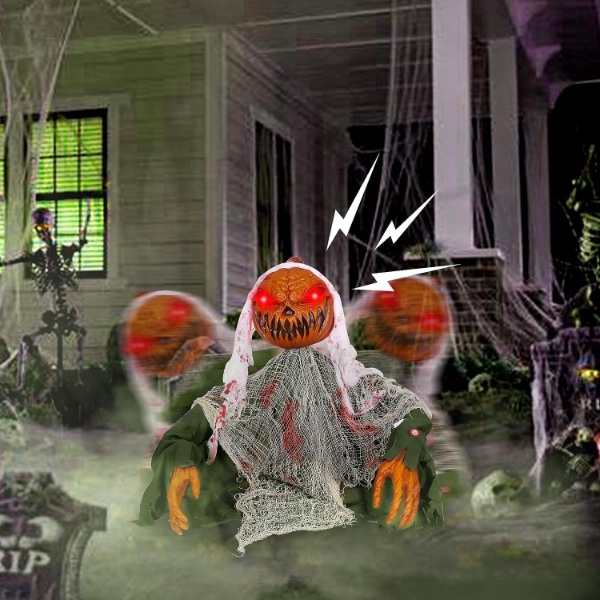 Bring your haunted house to life with animated Halloween props that surprise and delight your guests. These motion-activated or sound-activated props activate when someone approaches, creating an eerie and immersive experience. Look for props like animated haunted mirrors or spell books that add a touch of magic and mystique to your decor. If possible, choose props that maintain their appeal during daylight hours, ensuring your haunted house looks captivating around the clock.
Check out this range of animated halloween props by clicking here.
6. Make Things Glow In The Dark for Added Spookiness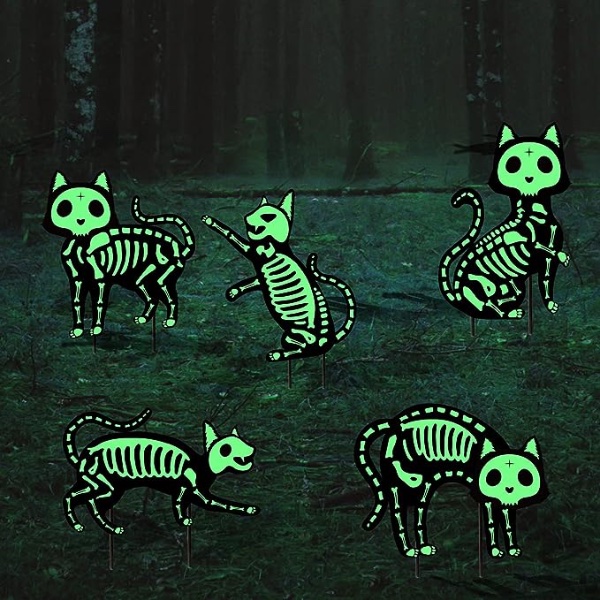 Adding black lights to your haunted house can take the spooky factor to the next level. These lights cause anything white or fluorescent to glow, allowing you to incorporate unique decorations designed to fluoresce under black light. Get creative with glow-in-the-dark signs or artwork, enhancing the eerie ambiance of your haunted house.
Check out these glow in the dark halloween decorations by clicking here.
7. Put Out Some Scary Candle Trees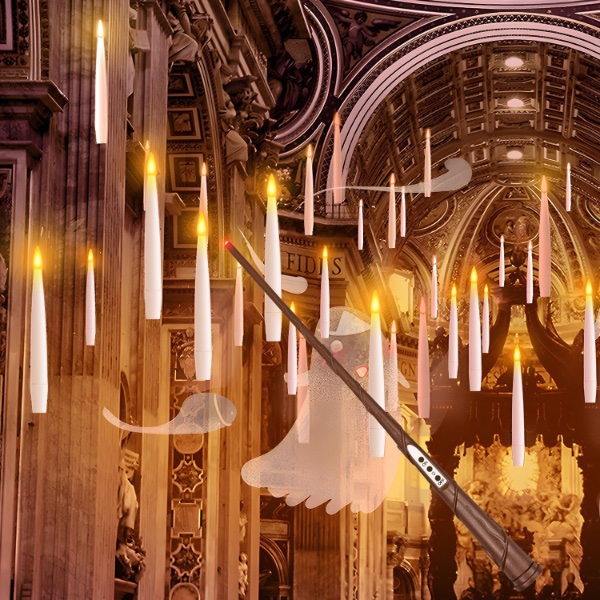 Metal candle trees, typically used for weddings, can serve as eerily elegant decor for your Halloween-themed party. These candle holders resemble dead trees, especially when illuminated with candlelight. Customize them by adding a crow or other Halloween-themed decorations to the branches. Their durability ensures you can reuse them year after year to maintain the hauntingly beautiful ambiance.
Check out these candle trees by clicking here.
8. Add Spooky Critters to Your Decor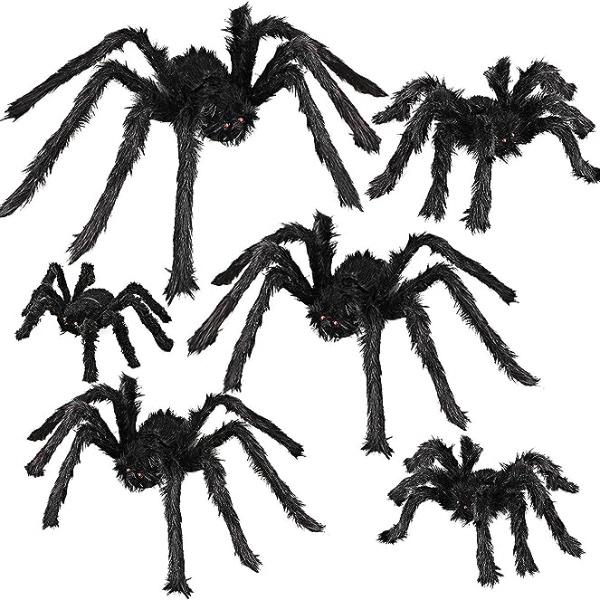 For an extra dose of Halloween ambiance, scatter fake animals like mice, rats, and bats throughout your haunted house. The element of surprise is key; place them where your guests least expect them. Consider positioning mice behind bathroom doors, rats on pianos, or hanging bats in dimly lit corners. The unexpected appearance of these critters is sure to send shivers down your guests' spines.
Check out these spooky critter halloween decorations by clicking here.
9. Hang Spooky Pictures to Set the Mood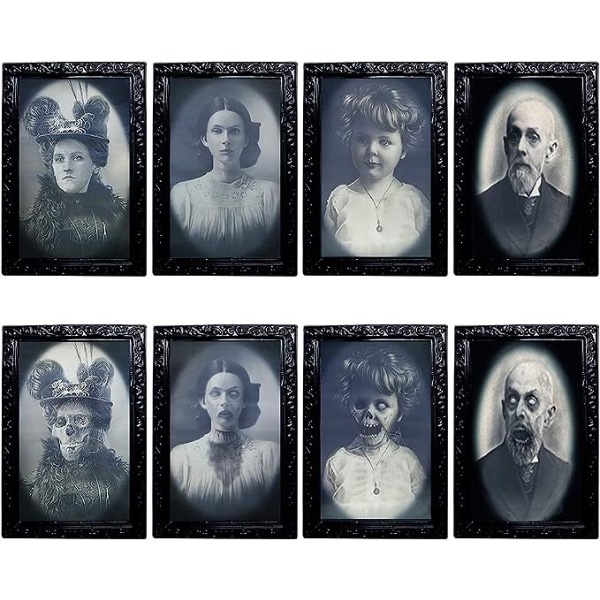 Elevate your Halloween pictures by integrating them seamlessly into your existing home decor. Replace some of your regular framed pictures with spooky Halloween-themed ones. This simple switch not only adds an eerie touch but also utilizes existing wall fixtures, reducing the need for additional setup. Options abound, from crafting your own Halloween silhouettes to using budget-friendly scene setters that mimic authentic portraits.
Check out these spooky pictures by clicking here.
10. Use Real Dead Flowers for a Macabre Touch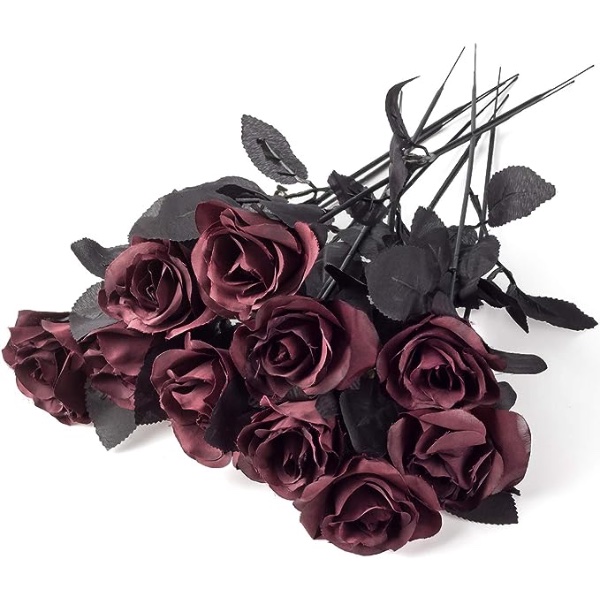 For a touch of macabre elegance, opt for real flowers that have aged and withered. Start by acquiring a bouquet of roses approximately three weeks before Halloween, allowing them to wilt naturally in a vase. This unconventional approach not only saves on decor costs but also adds the bonus of enjoying a beautiful bouquet before its transformation. Alternatively, you can opt for black fake roses, which offer reusability and a similar eerie aesthetic.
Check out these dead flower props by clicking here.
11. Add Spanish Moss for a Spooky Atmosphere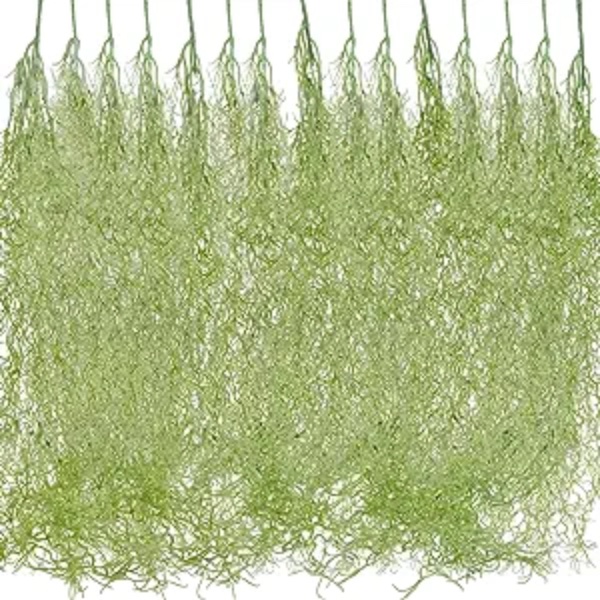 Spanish moss exudes a haunting allure regardless of its application. Incorporate it into chandeliers, furniture arrangements, planters, centerpieces, or any other areas requiring an infusion of natural eeriness. Its versatility and otherworldly appearance make it a staple in Halloween haunted house decorations.
Check out these Spanish moss halloween decorations by clicking here.
12. Lay Black Lace On Tables for a Stylish Spook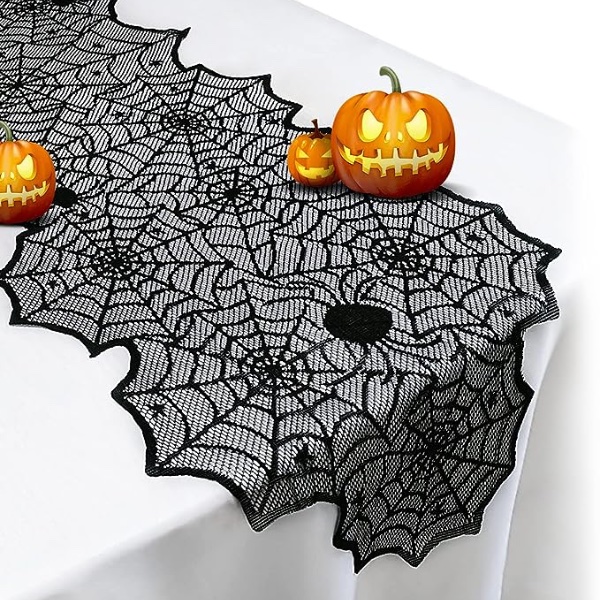 Easily elevate the spookiness of your tables by using Halloween-inspired black lace overlays. Simply place these overlays atop red or orange tablecloths for an effortless yet impactful Halloween touch.
Check out this black lace by clicking here.
13. Hang Ghosts for a Haunting Effect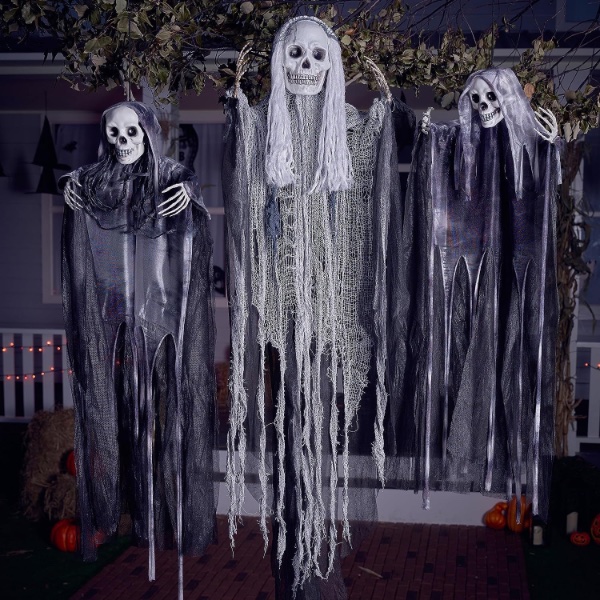 Creating DIY ghosts is a simple yet effective way to make your haunted house come alive. Fashion ghosts by attaching white fabric or sheets to round styrofoam balls, then fraying the fabric ends to achieve an uneven, ethereal appearance. Hang them strategically where guests will encounter them for a touch of spectral surprise. Alternatively, use lighting effects to project ghostly apparitions onto walls for an ethereal ambiance.
Check out these hanging ghost halloween decorations by clicking here.
14. Position Skeletons In Chairs for a Realistic Touch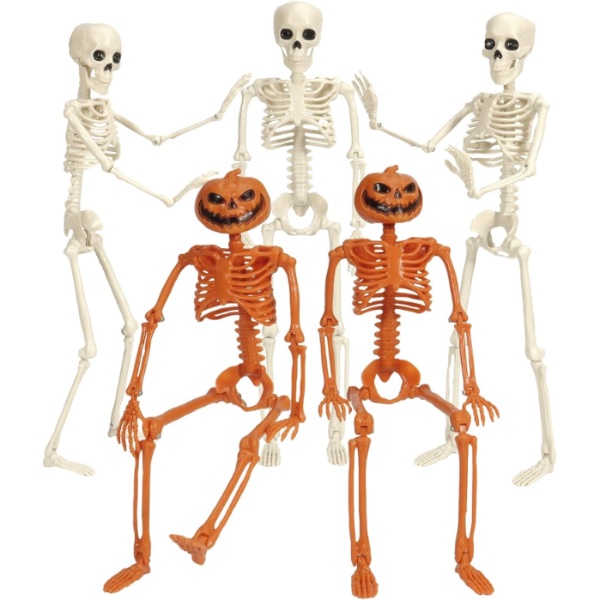 Poseable skeletons are versatile additions to your haunted house decor. Dress them up in inexpensive Halloween costumes to fit your chosen theme, whether it's the grim reaper, a bartender, or a member of the Addams Family. Arrange them realistically, such as having a skeleton reading a book or serving drinks, to seamlessly blend them into your haunted house's atmosphere. These skeletal guests also make for fantastic photo opportunities, allowing your guests to capture memories of their haunting experience.
Check out these skeleton halloween decorations by clicking here.
Conclusion
In conclusion to our ideas for Scary Halloween Decorations, transforming your home into a spine-chilling haunted house for Halloween is a thrilling endeavor that can be as elaborate or as simple as you desire. The key to success lies in meticulous planning, attention to detail, and a touch of creativity. By incorporating these 14 scary Halloween decorations, you're guaranteed to host a Halloween party that leaves a lasting impression on your guests. So, embrace the spirit of the season, and let the haunting begin!
Take a look at more halloween stuff here.