Saddle up, cowgirls! It's time to lasso the excitement and get ready to throw the wildest, most unforgettable bachelorette party in town. Whether you're the maid of honor, a bridesmaid, or a close friend, this is your chance to create a rodeo-themed celebration that will have the bride-to-be saying "yeehaw" all night long! This is a complete guide on how to throw a Last Rodeo Bachelorette party.
Check out this bachelorette party supplies set by clicking here.
How to Throw a Last Rodeo Bachelorette Party – A Complete Guide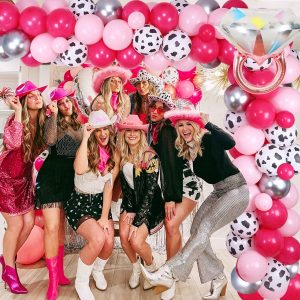 Welcome to the Last Rodeo Bachelorette Party, where we're pulling out all the stops to ensure a hoedown of epic proportions. Picture this: a sun-kissed afternoon filled with laughter, bonding, and a touch of rustic charm, followed by a boot-stomping evening of festivities that will leave everyone hooting and hollering with delight.
In this complete guide, we've rounded up all the rodeo-inspired tips and tricks you'll need to host a bachelorette bash that's as exhilarating as a bull ride. From decor that captures the spirit of the Wild West to games that'll have the posse in stitches, we've got you covered.
But wait, there's more! We know this isn't just any ordinary bachelorette party – it's the bride's Last Rodeo before she rides off into the sunset of wedded bliss. So, you can expect plenty of surprises, thrills, and moments that'll make memories to last a lifetime.
So saddle up, partner, and let's get this rodeo started! From line-dancing to a barrel of laughs, our guide will have you well-equipped to throw a bachelorette party that'll be talked about for years to come. Giddy up and join us on this adventure – it's time to lasso some unforgettable fun!
Check out this bachelorette party supplies set by clicking here.
What is a Last Rodeo Bachelorette Party
A Last Rodeo Bachelorette Party is the ultimate send-off for the bride-to-be before she takes her vows. It's a themed celebration that embraces the spirit of the Wild West and channels the rugged charm of a rodeo. This unique and exciting bachelorette party theme offers a fun and adventurous way to honor the bride's journey into married life.
Imagine a day filled with cowgirl boots, country music, and cowboy hats – a perfect blend of excitement and nostalgia. The Last Rodeo theme is all about capturing the essence of the frontier days while celebrating the bride's journey with her closest friends and loved ones.
At a Last Rodeo Bachelorette Party, you'll find yourself transported to a world of western fun and spirited camaraderie. From line-dancing lessons and rodeo-inspired games to rustic decor and delicious barbecue, every element is carefully curated to create an unforgettable experience.
This theme is perfect for brides who love the outdoors, have a taste for adventure, or simply want to embrace the rustic charm of the Old West. It's an opportunity to let loose, kick up your heels, and create cherished memories that will stay with the bride and her posse forever.
So, get ready to rustle up some fun as we guide you through the ropes of hosting a Last Rodeo Bachelorette Party. From rodeo-themed decorations to rodeo games and activities, we'll ensure this celebration is a ride of a lifetime for the bride and her cowgirls. Yeehaw!
Check out this bachelorette party supplies set by clicking here.
Last Rodeo Bachelorette Party Decorations
When it comes to throwing a Last Rodeo Bachelorette Party, the decorations play a crucial role in setting the Wild West ambiance and creating an unforgettable experience. Transform your venue into a rustic western oasis with these rodeo-inspired decorations:
Remember, the key to a successful Last Rodeo Bachelorette Party lies in the attention to detail. By transforming your space into a western wonderland, you'll ensure the bride and her cowgirls have an unforgettable ride on their last adventure as single ladies.
Last Rodeo Bachelorette Party Games
No Last Rodeo Bachelorette Party is complete without some fun and engaging games that will have the bride and her posse in fits of laughter. Here are some rodeo-inspired games that will keep the party going:
Bull Riding Showdown: Set up a mechanical bull or inflatable bull-riding machine and let the cowgirls take turns trying to stay on the bull the longest. The one who manages to ride it the longest without falling off wins a special cowgirl prize.
Horseshoe Toss: Create a horseshoe toss station with stakes planted in the ground and colorful horseshoes for throwing. Divide the guests into teams and see who can score the most ringers. It's a classic game with a western twist! Buy Here.
Lasso the Cactus: Hang a large inflatable cactus from a tree or post and challenge the cowgirls to lasso it using a rope. This game will test their lassoing skills and provide plenty of laughs along the way. Buy Here.
Cowgirl Scavenger Hunt: Organize a scavenger hunt around the party venue or nearby area. Create a list of western-themed items or tasks for the bride and her friends to find or complete. The team that checks off the most items on the list wins a prize. Buy Here.
Cowboy Boot Piñata: Fill a cowboy boot-shaped piñata with an assortment of treats and goodies. Blindfold the participants and let them take turns trying to break open the piñata. The one who successfully cracks it open gets to keep the treasures inside. Buy Here.
Rodeo Relay Races: Divide the guests into teams and host a series of relay races with rodeo-themed challenges. For example, have them race while wearing oversized cowboy hats or carrying a stuffed toy horse between their legs. Buy Here.
Wild West Trivia: Test the cowgirls' knowledge of all things Wild West with a fun trivia game. Prepare a list of questions related to famous cowboys, western movies, and rodeo history. The one with the most correct answers wins the title of the ultimate cowgirl expert. Buy Here.
Barrel Racing: Set up an obstacle course with barrels and have the guests race around them on stick horses or brooms. The fastest cowgirl to complete the course becomes the barrel racing champion. Buy Here.
These games will add an extra dose of excitement and camaraderie to the Last Rodeo Bachelorette Party. From riding mechanical bulls to lassoing cacti, the cowgirls are sure to have a rip-roaring good time.
Last Rodeo Bachelorette Party Food Ideas
A Last Rodeo Bachelorette Party calls for delicious and hearty food that will fuel the cowgirls' energy as they celebrate the bride-to-be. Here are some mouthwatering food ideas inspired by the wild west:
Build-Your-Own Taco Bar: Set up a DIY taco station with a variety of fillings like seasoned ground beef, shredded chicken, and black beans. Provide an assortment of toppings, including shredded cheese, lettuce, tomatoes, guacamole, sour cream, and salsa. Let the cowgirls create their own custom tacos for a fun and interactive dining experience.
Western-Inspired Sliders: Serve mini sliders with a western twist, such as BBQ pulled pork sliders, ranch chicken sliders, or classic cheeseburgers. These bite-sized delights are perfect for grazing and mingling throughout the party.
Cowboy Chili: Warm up the cowgirls with a hearty bowl of cowboy chili. This flavorful dish, made with ground beef, beans, and a medley of spices, is a comforting choice for an evening filled with rodeo excitement.
Southern Fried Chicken: Treat the guests to some finger-licking good Southern fried chicken. Crispy on the outside and tender on the inside, this classic dish will be a crowd-pleaser.
Cornbread Muffins: Serve up some buttery cornbread muffins as a delightful accompaniment to the savory dishes. The sweet and savory combination will have the cowgirls coming back for more.
Barbecue Skewers: Skewer up some juicy barbecue chicken, beef, or shrimp and grill them to perfection. These flavorful skewers will be a hit at the party.
Cowgirl Caviar: This colorful and refreshing salsa, made with black-eyed peas, corn, tomatoes, and avocado, is a must-have addition to the menu. Serve it with tortilla chips for a delightful appetizer.
Bacon-Wrapped Jalapeno Poppers: Add a spicy kick to the party with these delicious bacon-wrapped jalapeno poppers. They'll be the talk of the rodeo!
Rodeo-Inspired Desserts: Satisfy the cowgirls' sweet tooth with rodeo-inspired desserts like cowboy hat cookies, cactus-shaped cupcakes, or Sheriff badge sugar cookies.
Signature Drinks: Create special rodeo-themed cocktails like "Bucking Bronco Margaritas" or "Wild West Whiskey Lemonades." Offer non-alcoholic options like "Rodeo Raspberry Lemonade" or "Cowgirl Mocktails" for those who prefer a non-alcoholic refreshment.
Remember to consider any dietary preferences or restrictions among the guests when planning the menu. With these delicious and delightful food ideas, the Last Rodeo Bachelorette Party will be a culinary adventure that perfectly complements the western-themed celebration.
Check out the best last rodeo bachelorette party tableware by clicking here.
Last Rodeo Bachelorette Party Music Playlist
No rodeo-themed bachelorette party is complete without a boot-stomping, line-dancing, and belt-buckle-shining playlist. Here's a curated selection of country and western songs that will keep the cowgirls' spirits high and the dance floor filled:
"Save a Horse (Ride a Cowboy)" – Big & Rich: This energetic country anthem will set the perfect tone for the party and get everyone in the mood for some wild rodeo fun.
"Man! I Feel Like a Woman!" – Shania Twain: A classic hit that celebrates female empowerment and is guaranteed to get the ladies dancing and singing along.
"Wagon Wheel" – Darius Rucker: A modern country favorite that will have everyone swaying to the rhythm and feeling the cowboy spirit.
"Boot Scootin' Boogie" – Brooks & Dunn: A line-dancing essential that will bring out the cowgirl moves in all the guests.
"Giddy On Up" – Laura Bell Bundy: A sassy and playful song that will have the bride and her friends showing off their best dance moves.
"Cowboy Take Me Away" – Dixie Chicks: A heartfelt ballad that will make the bride and her friends feel like they're on a romantic western adventure.
"Here for the Party" – Gretchen Wilson: An upbeat party anthem that will have the cowgirls celebrating and raising a glass to the bride-to-be.
"All My Ex's Live in Texas" – George Strait: A classic country tune that's perfect for a sing-along with the bride and her closest friends.
"Friends in Low Places" – Garth Brooks: A timeless favorite that will have everyone belting out the chorus and feeling like true country companions.
"Before He Cheats" – Carrie Underwood: A fierce and empowering song that will have the cowgirls feeling like they can take on anything.
"Country Girl (Shake It for Me)" – Luke Bryan: A modern country hit that will keep the energy high and the dance floor buzzing.
"Jolene" – Dolly Parton: A classic country song that's perfect for a sing-along and celebrating the power of friendship.
"Dirt on My Boots" – Jon Pardi: A fun and catchy tune that will have everyone stomping their feet and embracing their inner cowgirl.
"Beer Never Broke My Heart" – Luke Combs: A party anthem that will have the cowgirls raising their glasses and toasting to the bride's happiness.
This carefully curated playlist will create the ultimate rodeo party atmosphere and ensure that the Last Rodeo Bachelorette Party is a night to remember. So grab your cowboy boots and get ready to two-step the night away with the bride and her besties!
The best option for your music is to use Amazon Music. This will put pretty much any song you can imagine at your finger tips. Check out the best deals for Amazon Music by clicking here.
Last Rodeo Bachelorette Party Favors
Send the cowgirls off with delightful Last Rodeo Bachelorette Party favors as a token of appreciation for joining in on the rodeo fun and celebrating the bride-to-be. Here are some creative and charming favor ideas to capture the spirit of the wild west:
Remember to tie the favors together with rustic twine or burlap ribbons to enhance the western charm. Whether it's a fun accessory, a useful item, or a tasty treat, these Last Rodeo Bachelorette Party favors will leave the cowgirls with lasting memories of the rodeo celebration and a wonderful reminder of the bride's unforgettable "last ride" before the big day.
What to Wear to a Last Rodeo Bachelorette Party
Giddy up, cowgirls! It's time to round up the perfect outfits for the Last Rodeo Bachelorette Party and embrace the western flair. Whether you're the bride-to-be, a bridesmaid, or a guest, dressing the part will make the celebration even more memorable. Here are some fabulous outfit ideas to help you saddle up in style:
Cowgirl Chic: Channel your inner cowgirl with a classic western look. Opt for a denim or chambray shirt paired with suede fringe shorts or a cowgirl-inspired skirt. Complete the outfit with cowboy boots and a wide-brimmed hat. Add a touch of glam with a statement belt buckle and some southwestern jewelry.
Rodeo Queen Glam: Take center stage with a dazzling rodeo queen ensemble. Choose a sequined or embellished dress in a bold color like turquoise or coral. Accentuate your look with a rhinestone tiara or cowboy hat adorned with glittering embellishments. Don't forget to wear your favorite pair of statement boots to dance the night away.
Boho Western Vibes: Combine bohemian chic with western elements for a unique and relaxed look. Opt for a flowy maxi dress with floral or tribal patterns and add a suede fringe vest or kimono for an extra touch of western flair. Complete the ensemble with ankle boots or cowboy booties and accessorize with long beaded necklaces and fringe earrings.
Denim and Lace: Embrace the rugged charm of the west with a denim and lace outfit. Wear a fitted denim shirt or jacket over a delicate lace camisole or dress. Pair it with high-waisted jeans or a denim skirt with embroidered details. Finish off the look with cowgirl boots and a leather belt.
Southern Belle Elegance: For a touch of southern elegance, don a flowy sundress in soft pastel colors like blush or mint. Add a wide-brimmed straw hat and some dainty cowgirl boots or ballet flats for a feminine and comfortable look.
Country Concert Casual: If you prefer a laid-back and casual style, opt for distressed denim shorts or jeans paired with a graphic tee featuring western motifs or the bride's name. Layer with a plaid flannel shirt tied around the waist and complete the look with comfortable sneakers or ankle boots.
Customized Bachelorette Tees: Consider customizing bachelorette party tees or tanks with fun western-themed phrases like "Bride's Posse" or "Last Rodeo Crew" to create a unified and playful look for the entire party.
Remember to dress for the weather and the planned activities, whether you're heading to a ranch for horseback riding or hitting the town for line dancing. No matter which style you choose, the key is to have fun and embrace the spirit of the Last Rodeo Bachelorette Party in your fashionable western attire!
Check out this bachelorette party supplies set by clicking here.
Take a look at more bachelorette party stuff here.